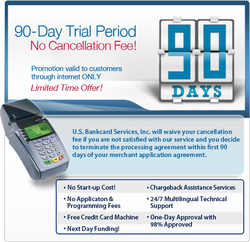 City of Industry, CA (Vocus) June 28, 2010
U.S. Bankcard Services, Inc. (USBSI), a leading nationwide Merchant Services Provider (MSP) continues its successful 'No Cancellation Fee Promotion'. This promotion, which is uncommon in the industry, will continue until 7/31/2010. The 'No Cancellation Fee Promotion' eligibility is simple: Any merchant who opens a card processing account through U.S. Bankcard Services, Inc.'s website, banner ads, social networking sites (Facebook, LinkedIn), e-mail promotions or any other USBSI web-based marketing initiatives is considered eligible.
How the promotion works: The 90-day clock starts ticking from the application approval day and continues for 90 calendar days, inclusive. Once a merchant has signed up with USBSI the approval process is set in motion. The approvals process is quick, usually a 24-hour response time. Within the first 90 days after the account has been approved, a merchant may cancel his/her account with all cancellation fees waived if dissatisfied with the services provided by USBSI. However, USBSI is so confident in its services and client satisfaction ratings, as well as its technological advancements, that USBSI knows that merchants will want to stay forever. So while this 'No Cancellation Fee Promotion' is available, merchants are encouraged to visit the USBSI's website to open a processing account today.
About U.S. Bankcard Services, Inc. (USBSI)
U.S. Bankcard Services, Inc. (USBSI) is a leading nationwide Elavon Payment Partner and registered MSP/ISO of U.S. Bank Minneapolis, MN. USBSI offers competitive rates and superb customer service that is unparalleled in the credit card processing industry. USBSI's 24-7, in-house, and multilingual customer service and technical support are focused on moving merchants' business forward, one swipe at a time. For more information about U.S. Bankcard Services, please visit http://www.usbsi.com.
###