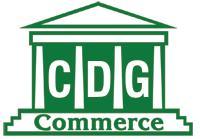 The technology offered by CDGcommerce is designed to help merchants get started with the most powerful merchant account tools and features available on the market.
Chesapeake, VA (PRWEB) June 17, 2008
CDGcommerce, a leading Internet merchant account provider credit card processor, announced today its QuickBooks integration feature, free to all CDGcommerce customers. Merchants can easily transfer data to their QuickBooks database from the CDGcommerce system, regardless of the payment gateway or point-of-sale system they use for payment processing.
"We were one of the first merchant account providers to offer QuickBooks integration and offer it free to our customers" said Chris West, CEO of CDGcommerce. "Our exclusive QuickBooks integration feature makes it easy for merchants to transfer their data from our MerchantPortal™ to their database, fast."
CDGcommerce's merchant accounts provide the best of both worlds for merchants. They can utilize the features of QuickBooks with the power of CDGcommerce's free payment gateway and credit card processing system. The new feature opens the door to thousands of QuickBooks users in the United States. Users can import all transactions, settlement, and deposit information directly into QuickBooks.
After importing transaction information from their MerchantPortal™ users can view graphical trend charts showing sales by month to track the progress of their marketing efforts. Other reports show revenue growth, net profits, and organized financial information to help companies keep their accounting data organized.
Currently the MerchantPortal™ only supports integration for exporting records and importing into QuickBooks. Users benefit from QuickBooks integration because it provides merchants with cost-effective credit card payment processing at more affordable rates compared to relying solely on QuickBooks payment processing.
"With the CDGcommerce QuickBooks integration feature, merchants can keep all of their transaction information with their other company financial information," said West. "Everything can be in one place for easier access and enhanced reporting features QuickBooks users already enjoy."
CDGcommerce's MerchantPortal™ system combined with their free payment gateway allows users to get started accepting credit card payments online at cheaper rates compared to competitors who charge for their credit card payment gateway and enhanced online reporting tools.
"Our merchant account services provide features not found on any other platform including free built-in Verified by Visa and MasterCard SecureCode at no additional cost to merchants," said West. "The technology offered by CDGcommerce is designed to help merchants get started with the most powerful merchant account tools and features available on the market."
About CDGcommerce:
Established in 1998, CDGcommerce has quickly become a prominent leader in online credit card processing for merchants across the U.S. As an award-winning merchant provider and online credit card transaction processor, CDGcommerce has a reputation for providing world class wireless, retail, and Internet payment processing services and develops many pioneering technologies to help merchants successfully reduce the risks of online credit card processing and defend against fraud and chargebacks.
For more information about CDGcommerce, visit http://www.cdgcommerce.com.
Media Contact:
Kathy Brown
Media Relations
CDGcommerce.com
888-586-3346 x806
press @ cdgcommerce.com
###