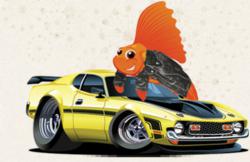 If you're not going to check your report for accuracy, who will? You can't rely on the agencies to do it for you.
Washington, D.C. (PRWEB) November 08, 2012
RoadFish.com men's lifestyle and finance magazine today released their statement regarding the frequent inaccuracies on consumer credit reports computed and issued by credit reporting agencies, who may not have accuracy as their primary concern when computing reports. RoadFish.com's take on this issue may be of help to consumers in highlighting some resources for them to turn to upon discovering erroneous credit report data. RoadFish.com also points out the importance of checking one's credit— whether it's through a free credit check or a paid service— often and actively searching for inaccuracies.
Jimmy Dahroug of the Washington Times reported on Monday that despite any common misconceptions, credit agencies are businesses unrelated to government, and likewise are not federally regulated. The customers of such agencies are organizations like credit card companies, banks, landlords, and potential employers—basically any entity that would run a credit report on somebody who was in consideration for a loan, for hiring, or to rent a property. Consumer Expert Clark Howard is quoted within the article as saying that we, the consumers, "are not [even] the customers." And as such, consumers are warned to pay special attention to the accuracy of their report. Howard is again quoted, stating that credit agencies "slice and dice our credit information. Their only real objective is to package and sell, without an interest in [ensuring] that the information is wholely accurate."
RoadFish.com encourages readers to cast a critical eye on their credit report, searching for inaccuracies so that they may correct them swiftly. RoadFish.com's Senior staff writer is quoted as saying, "I think sometimes we as consumers have full faith in the credit reporting agencies to provide a totally accurate, error-free report because they seem like an authoritative organization. But humans are human, and nobody's perfect, and every company is prone to err. Which is why it's so crucial that each consumer checks his or her report frequently for erroneous data. If you're not going to check your report for accuracy, who will? You can't rely on the agencies to do it for you."
The above-mentioned article states that the Consumer Federal Protection Bureau (CFPB) recently decided to regulate credit agencies and provide an outlet for consumers to turn to in order to report false or inaccurate data on their credit reports. Until just recently consumers were required to go directly to the credit reporting agencies themselves in order to fix an error, but with the government stepping in, author Dahroug sees big improvement in the system. On October 22nd, the CFPB announced that it would also begin taking credit reporting complaints.
RoadFish.com expressed gratitude towards the Consumer Federal Protection Bureau for jumping in to the consumers' aid with their new policy. RoadFish.com's Senior staff writer is quoted as saying, "On the one hand I feel like it's about time the feds stepped in to regulate some of these issues, but I have to be very thankful that they finally have. I certainly hope that consumers utilize the tools which they're being provided with through this bureau, and take advantage of their services in every way they can."
Dahroug cites quotes in the above-mentioned Washington Times article from the U.S. Public Interest Research Group, whose study revealed that 79% of credit reports contained some sort of error. In addition, about 25% of all reports included errors that were so serious that they would result in the denial of that consumer's credit.
About RoadFish.com
RoadFish.com lifestyle and finance magazine is an online men's magazine whose articles discuss travel, dating, and men's luxury items. RoadFish.com men's magazine is aimed towards men in their 30's and 40's, who maintain a high standard for themselves, and who are constantly striving for the best life has to offer. RoadFish.com features stories on hot chicks, hot vacations, and hot men's items as well as and advice for dating and personal finance advice such as how to ensure an accurate credit report. RoadFish.com is owned and operated by Purpose Inc.