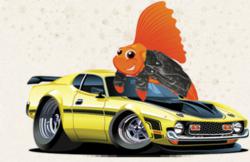 This article could not have been timed any better.
New York, NY (PRWEB) April 27, 2012
RoadFish.com men's lifestyle and finance magazine today brought attention to a comprehensive question and answer session that USA Today performed with close to a dozen counselors from the National Foundation for Credit Counseling including topics from credit card debt to student loans. The questionnaire, "Credit Counselors Answer Questions About Credit and Debt," aimed to answer the most common financial inquiries to better educate readers and make them more "financially literate." RoadFish.com commended USA Today for publishing such an aptly timed article.
USA Today ran an article, titled "Credit Counselors Answer Questions About Credit and Debt," in which it posed some of the most frequently asked questions involving credit cards, student loans, credit scores, debt, and home loans to the counselors at the National Foundation for Credit Counseling (NFCC.) The article states that the topic is in honor of April being Financial Literacy Month. The article runs through a dozen questions, and readers might be surprised at the answers. For example, on inquiry posed the question of whether it was better to close an account with a very old retail store card that hadn't been used in awhile, or to cut up the card to prevent future use. Contrary to popular belief, the counselors advise against closing an account like this, even though it may be tempting to do so for an account that is not being used any longer, and for a retail card which you wouldn't carry a balance on. However, the counselors warn that this could temporarily damage a credit score and go on to explain the five categories that affect a score, and just why you score could be negatively affected any time an account is closed.
RoadFish.com's Senior staff writer is quoted as saying, "This article could not have been timed any better. I think that a lot of families are starting to see the light at the end of the tunnel in terms of our country's financial dark ages, but unfortunately a lot of folks have taken on a good amount of debt, or seen dips in their credit scores, during the tough times. Not only do these answers come from professionals, but I think that it's a sort of beacon of hope to folks who feel like they're still buried. It's saying yes, these are issues that lots of people are struggling with, but there are answers and ways out."
A Marketwire press release that ran in the Wall Street Journal reported that in January 2010, the average household credit card debt for American consumers was $15,956 (data from the Federal Reserve of Boston.) The press release suggested that national debt relief programs could help to provide solutions and helpful answers to credit card debt problems of our country. NFCC is reportedly the country's largest financial advising organization.
According to NFCC's website, they have offices located in every state, as well as Puerto Rico, and report that they annually serve 3 million customers online, in person, or by phone. The counselors who contributed answers to USA Today's questions are listed at the end of the article as Ashley Adami of ClearPoint Credit Counseling Solutions, Jill Perry of Financial Guidance Center, Brad O'Brien of GreenPath Debt Solutions, Lisa Frankenberger of Consumer Credit Counseling Service of Buffalo, Steven Axtell of American Financial Solutions, Jessica Williams-Oestmann also of American Financial Solutions, Angel Seeba-Joyce from Consumer Credit Counseling Service of San Francisco, Urmi Mukherjee of Apprisen Financial Advocates/CCCS, Beth McMillan of Consumer Credit Counseling Service of West Georgia/East Alabama, and Andie Campbell from InCharge Debt Solutions.
About RoadFish
RoadFish.com is an online men's lifestyle and finance magazine targeted toward men in their 30s and 40s that have already attained a moderate level of success in life, and are striving toward more. It goes over current events of interest to this group, such things as exciting adventures, making money, consumer interests, hot chicks, and health-related news stories as well as ways to make more and save more money. It is a publication owned by Purpose Inc.