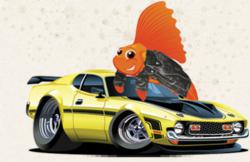 There are two big things I see consumers doing which they think are helping but are actually big no-no's.
New York, NY (PRWEB) January 17, 2013
RoadFish.com men's lifestyle and finance magazine today issued their statement regarding common credit myths, and promoted MSN Money's recent article debunking five of the biggest current misconceptions. RoadFish.com urged readers to look into some possible fallacies that they may be mistaking for truths, in order to better understand what goes into factoring their credit score so that they may effectively work on improving their scores.
Jill Krasny's article, featured in MSN Money recently, highlighted some common misconceptions about credit that could be causing consumers to be missing their mark in terms of goals. Krasny sheds light on the five of the most widespread myths about credit, hoping to clear up the confusion and set the record straight. Krasny states that according to Barry Paperno, a credit expert from Credit.com, one of the most common things people wrongly believe about credit is that having too much available credit on credit cards can actually hurt somebody's score, which is not true. Paperno explains that the misconstrued logic is that if a consumer were to use up all of the credit available to them, from every account, then they wouldn't be able to make payments on a new line of credit. The truth of the matter is that this was a fact, before the days of credit scoring. Paperno is quoted as saying, "There is nothing in the scoring formulas that penalize a consumer for having too much available credit," adding that it might even demonstrate that the consumer is a trustworthy borrower.
RoadFish.com encouraged consumers to get the facts on credit scoring, so that they may better know how to go about repairing their own scores. RoadFish.com's Senior staff writer is quoted as saying, "You know, you can only help something as much as you know how to. For instance, you might be dying to see a bigger number on your credit score, but if you're mislead about what will and won't get you there you're never gonna win big. This article is well worth a read because I think consumers might really be surprised to find that things they believed to be true are actually just a myth, and who knows—it could make a big difference in getting the score you're shooting for."
The above-mentioned MSN Money article goes on to debunk more myths, including the popular belief that income is included on credit scores and the falsehood that one a couple gets married their credit history is combined, giving them joint credit reports and scores. Paperno reports that income is no longer a factor in computing a consumer's score, although income did appear on credit scores over 20 years ago. He states that these days, banks care more about a person's trustworthiness in paying back what they borrowed than how much they make. Likewise, married couples will never share credit reports or scores—although joint credit accounts will still display both spouses' credit behavior, which the other will be held liable for on their report. But the reports and scores will remain separate.
RoadFish.com shared some other credit practices that they believed consumers may be misinformed about, and gave some advice on how to remedy the scenarios. RoadFish.com's Senior staff writer is quoted as saying, "There are two big things I see consumers doing which they think are helping but are actually big no-no's. The first is cutting up credit cards and cancelling accounts when they want to get out of debt and improve their credit score. What people don't understand is that a big part of factoring the creditworthiness of a consumer is seeing how old his or her accounts are. The older, the better! So don't go cancelling those old cards, in fact it's better to put a small amount on them each month that you can pay off and still keep the account. The second thing is that people think if they have no credit cards, their credit score will be perfect. But zero lines of credit equals zero credit history, which in some ways is worse than bad credit. The key is to open lines of credit, then handle them responsibly—no late payments, paying off the balances, and keeping the balances low."
Krasny encourages folks who have made New Year's resolutions to stick to them, and to make sure they have a handle on the reality of credit so that they can successfully achieve their financial goals.
About RoadFish.com:
RoadFish.com is a men's lifestyle and finance magazine geared towards money-conscious men in their 30's and 40's who possess a zest for life, and for self-improvement. RoadFish.com features articles on hot chicks, dating advice, men's fashion, luxury watches brands, restaurant reviews, and top conferences. RoadFish.com is owned and operated by Purpose Inc.