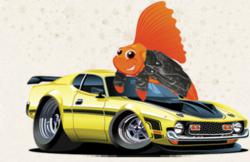 Monthly rent payments are an incredibly good testament to a consumer's financial responsibility.
New York, NY (PRWEB) May 14, 2013
RoadFish.com men's lifestyle and finance magazine today issued their support of rent payments being included on credit reports, and encouraged renters to take steps to have their rent included on their credit. Currently, only a couple of credit bureaus automatically include rent on credit reports. RoadFish.com encourages all credit bureaus to include rent on their reports, and as they feel it is a good way to measure the financial reliability of tenants.
According to Abby Hayes of MSN Money, paying rent used to not impact credit scores whatsoever. If a tenant falls behind enough on their payments, there is a chance that being sent to collections could negatively impact one's score. However, it is due to very recent changes that a couple of credit bureaus are actually acknowledging rent as an important bill to include on credit reports. Hayes states that for many consumers, rent is the largest expense per month and it seems backwards to receive no credit for making timely payments, month after month, on such a big expenditure. Hayes adds that rental rates have only gone up due to the recession and an upswing in foreclosures, making it all the more frustrating for tenants who are attempting to work on their credit scores to receive no acknowledgement for their monthly rent.
RoadFish.com is a big believer in including rent on credit reports. RoadFish.com's Senior staff writer is quoted as saying, "Monthly rent payments are an incredibly good testament to a consumer's financial responsibility. It only makes sense that if credit reports factor in consumer payments to credit cards, then they would take into account a large payment that occurs each and every month, that has a deadline, that tenants either hit or miss. It seems to me you would be able to see a pattern—either tenants pay on time diligently each month, or they tend to make a couple late payments here and there, or they are habitually late with their rent and have even gone over 90 days past due in instances. Now, hopefully, using this information would benefit more renters than not—assuming most tenants do pay their rent on time each month."
In the above-mentioned MSN Money article, Hayes reports that Experian and TransUnion allow renters to include their rent payments in their credit, but so far they are the only two. The article offers suggestions of ways that renters can get credit for their timely, positive rental payments on their credit reports, ideas such as conversing with a landlord about joining the RentBureau program. In this way, a tenant's rental history gets reported directly to Experian, who will then use this information on that person's credit report. Another option Hayes brings up is Rental Kharma, which allows users to create an online account and, after paying a $10 fee, can have their rent payments reported to the TransUnion for up to two years.
RoadFish.com hopes that renters will take advantage of the options out there to have their rental payments included on their credit reports. RoadFish.com's Senior staff writer is quoted as saying, "Our real hope is that, sometime in the very near future, credit reports will automatically include rental payments. It's a no-brainer to include mortgage payments, so we're hoping rent becomes an obvious inclusion as well. But until that time, renters are going to have to do a little extra legwork to get their rent to be acknowledged. It's worth it in the end, though, because if positive rental history can give somebody a hike in their credit score, that's almost like money in your pocket."
Hayes states in the MSN Money article that it can be a real problem for renters who are trying to work on their credit to purchase a house or condo, to not have their positive rental payments reflected on their credit.
About RoadFish.com
RoadFish.com is an online finance and lifestyle magazine targeted towards men in their 30's and 40's, who have been successful in life thus far and enjoy setting and meeting new goals for themselves. Topics of RoadFish.com's articles include hot chicks, restaurant reviews, men's luxury items, and their opinion of the best online dating site. RoadFish.com also writes finance articles aimed at guiding men with their credit reports, personal budgets, and analysis on new finance data. RoadFish.com is owned and operated by Purpose, Inc.