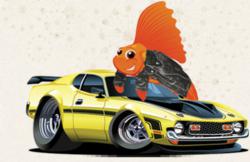 —and don't claim something that your credit report can disprove, like saying you have no access to credit when your credit report clearly reveals that you have tons of credit.
New York, NY (PRWEB) May 24, 2013
RoadFish.com men's lifestyle and finance magazine today issued their statement regarding the recent discovery of yet another way credit reports can be used against a consumer: in a court of law. RoadFish.com responds to a Forbes article detailing an incident where one party's claim was discounted by bringing her credit report under scrutiny in the courtroom, and the online magazine warns consumers not to say anything about their finances that their credit report cannot back up—or vice versa, lie about anything that their report can't disprove.
On May 19, 2013, Adam Levin of Forbes reported that most people understand the importance of credit reports when it comes to the likes of applying for credit cards, mortgages, auto loans and student loans. Even applying for jobs these days comes with the chance that a potential employer will run a credit check to aid in their hiring decision. However Levin states that U.S. lawyers have recently discovered a new place for credit reports to be used against people, and that is in divorce proceedings particularly when discussing alimony.
RoadFish.com is not surprised to see yet another avenue that credit reports are popping up in, and makes a prediction about where credit in the U.S. is headed. RoadFish.com's Senior staff writer is quoted as saying, "Our country puts a major emphasis on credit scores and credit reports. There are other counties that don't use them as much, even at all, but here in the U.S. we use them for many, many things having to do with finance. Those who believe credit reports and scores are only needed when dealing with borrowing money could not be more wrong. They're used to rent apartments, get jobs, and apparently now when you get divorced too. I'm not shocked to see that credit reports are being used in court hearings at all. In fact, I think that credit reports will only continue to be used in more ways, for more purposes."
For much of the above-mentioned Forbes article, Levin quotes his friend John Ulzheimer, a former Equifax and Credit.com employee who knows his share about the ins and outs of credit and credit reports. Ulzheimer states that during a recent divorce trial he was asked to testify at due to the nature of his professional credit experience, the soon-to-be-ex-wife was requesting she receive a big alimony from her soon-to-be-ex-husband as she claimed she had no access to credit. Her husband's legal representation found a hole in her claim however when her credit report proved that she had been added as an authorized used to her new boyfriend's credit cards and in fact had access to $50,000 in combined credit lines. Ulzheimer is quoted as saying, "The fact that she was an authorized user began showing up on her credit reports about 30 days after the boyfriend agreed to authorization. At that point she could not longer suggest that she had no access to credit."
RoadFish.com offers a sincere recommendation to readers that they be careful of their financial claims unless they are sure their credit reports can back up their words. RoadFish.com's Senior staff writer is quoted as saying, "Your credit report is a pretty good representation of your past and current financial background, and though there may be a few inaccuracies for their most part they speak the truth. Like emails, written contracts, and recorded phone conversations they can certainly be used as proof of one thing or another. So don't claim anything that you can't back up with your credit report—don't lie about never being late on a payment if your credit report shows otherwise—and don't claim something that your credit report can disprove, like saying you have no access to credit when your credit report clearly reveals that you have tons of credit."
In the above-mentioned Forbes article, Ulzheimer is quoted as saying, "The moral of the story is simple: If you want to convince someone that you don't have access to credit then you better assume that your credit reports are going to be subject to review by opposing counsel. And while credit reports take a lot of heat as being supposedly loaded with errors, they often tell a very clear story as to whether or not you've got access to credit lines. They simply don't miss much when it comes to relationships with creditors."
About RoadFish.com:
RoadFish.com is an online magazine for men that features lifestyle and finance articles. RoadFish.com targets an audience who have achieved a moderate level of success in life and are constantly striving for the next challenge, goal or mission. RoadFish.com writes primarily about dating, especially what they feel to be the top online dating site, hot chicks, luxury items for men, and reviews of restaurants and hotels. RoadFish.com also writes about personal finance and current financial events, such as consumers failing a recent credit score quiz. RoadFish.com is owned and operated by Purpose, Inc.