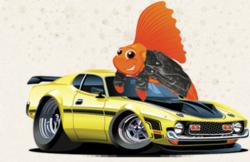 Don't take it personal, just pay your traffic tickets-- and library debt.
New York, NY (PRWEB) April 19, 2013
RoadFish.com men's lifestyle and finance magazine today released their statement about the way traffic violations and credit are linked, in the wake of MSNBC correspondent Chuck Todd's experience of having an unpaid traffic ticket wind up on his credit report. RoadFish.com explained to consumers how two seemingly unrelated fields, driving and credit, can become linked and how to avoid it.
Eddie Scarry of FishbowlDC reported this week that Chuck Todd, the chief White House correspondent for NBC News and MSNBC's "The Daily Rundown" host, had an unpaid traffic ticket wind up negatively affecting his credit. Scarry reports that Todd made an illegal maneuver at a red light in Chevy Chase Village, a town with a local jurisdiction that does not hesitate to turn over unpaid traffic tickets to collections agencies. Scarry reported that Todd tweeted last Thursday, "So I just learned the hard way that an unpaid red-light camera ticket can be part of a credit report. That seems ridiculous."
RoadFish.com understands Scarry's bewilderment, and explains to readers why traffic tickets can wind up on credit reports. RoadFish.com's Senior staff writer is quoted as saying, "As ridiculous as it seems to tie one's credit history, meaning his or her trustworthiness as a borrower, to their driving the fact is that's not where the link is. A traffic ticket isn't going to ding somebody's credit. What's going to ding the credit is if they don't in fact pay that ticket, and then it gets handed over to a collections agency. It's the collections agencies who, in turn, report to the credit bureaus. I've even heard of municipalities turning over library debt to a collections agency, it's not just traffic violations. Municipalities want to get paid, and turning debt over to collections agency gives them a better shot of reigning in the money they're owed. Don't take it personal, just pay your traffic tickets-- and library debt."
According to Scarry's article, Todd did not agree with the red light camera ticket making its way to his credit report. Scarry states that Todd Tweeted, "My issue with red light cam tickets being tied to credit reports is that there's no guarantee it was me driving." Todd also seemed to deny ever having received a bill in the mail, later Tweeting, "In this era where snail mail is so easily ignored, these red light camera municipalities need to come up with a better way to let me know I owe."
RoadFish.com recommended to consumers to always pay what they owe in a timely manner, and to immediately contest a ticket that they believe was sent in error. RoadFish.com's Senior staff writer is quoted as saying, "Nobody's perfect, and mistakes to do happen. If you get a ticket for something that you feel you did not do, it's important to contest it immediately. If you simply ignore it, there's a good chance it could go to collections after a certain period of time. And the last thing you want to do is be checking your freecredit score and find out after the fact that you've been sent to collections, and your credit score is already dinged. By then it's too late, so it's important to be proactive."
FishbowlDC reported that they believe Todd is currently contesting the red light cam ticket.
About RoadFish.com:
RoadFish.com is an online magazine designed for men in their 30's and 40's who are moderately successful in life and their professions, and who choose to pursue further goals. RoadFish.com writes articles on everything from hot chicks, to restaurant reviews, to mens luxury watches best brands. RoadFish.com also reports on financial topics, such as debt, budgeting, and h ow long it takes to mend credit. RoadFish.com is owned and operated by Purpose, Inc.