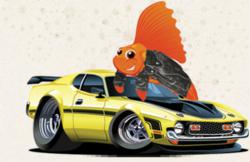 I love that her article is thick with resources, and not only that but she includes all the links, all the outlets that consumers can turn to in order to make all her suggestions actually happen.
Boston, MA (PRWEB) December 06, 2012
RoadFish.com men's lifestyle and finance magazine today issued their support of the recently published Money Talks News article by contributor Angela Colley, which revealed eight very surprising credit score boosters. RoadFish.com was happy to see such a comprehensive and intelligent guide published for those consumers whose credit scores are pretty good, but are seeking to achieve truly stellar numbers. RoadFish.com offered their own suggestions to attain great credit and urged readers to take advantage of Colley's sage advice.
Money Talks News writer Angela Colley's article, "8 Little-Known Ways to Raise your Credit Score," reports that in 2011, 12.1% of Americans' credit scores were between 650-699 and 15.5% of consumers had scores in the range of 700-749. A whopping 18.3% of American consumers were reported in 2011 as having a score between 800-850, numbers which are considered "stellar" and earn the consumer the best offers and interest rates of all the ranges. With that said, Colley describes how she fluctuated between a 650 and a 749 for many years, until she made a conscious decision to actively boost her credit score into the status of phenomenal. She shares eight surprising tips, tried and proved by her personally, that will help boost credit, advice such as adding "missing" accounts to one's credit report—such as credit lines that a consumer has a fantastic track record with, like a telephone company, wireless provider, and cable provider. These records can go back ten years or more, but are sometimes not included on credit reports. Colley points out that adding positive credit lines will build good credit and gives advice about how to nicely contact utility companies and make this request, since it is by no means a requirement.
RoadFish.com's Senior staff writer is quoted as saying, "What I love about this Money Talk News article is that it's aimed at consumers whose credit scores are already pretty good. There are tons of articles out there, explaining how to dig out of debt and how to repair a score that's absolutely shot to hell. That's what's so different about Colley's piece. It's for those of us who already keep a monthly budget, who check our credit scores annually if not more, who use tools like financial apps and Experian's Score Planner to broaden our financial horizons. I love that her article is thick with resources, and not only that but she includes all the links, all the outlets that consumers can turn to in order to make all her suggestions actually happen. She basically hands people the tools and says, 'Ok, I did it, now you go do it.' It's great."
Another of Colley's recommendations is for consumers to find out what dates their credit card companies report balances to the credit reporting agencies, and then pay down their balance before that date instead of simply paying by the due date of the bill. Colley explains that if a bank were to check the credit of somebody in between the time when they'd charged a credit card and they'd paid it off, the bank would see a balance there. But if the debt is paid down by the time the creditor reports to the credit-reporting agency, then there is a zero balance on that account. Colley says that she contacted her creditor to find out the date that the company sent out its reports, and has been paying before the report date ever since—virtually earning her zero balance on her card whenever her credit is checked.
RoadFish.com's advice to consumers who are looking to strengthen their credit scores is to check their credit reports once per month while they are actively working on improving their credit. RoadFish.com's Senior staff writer is quoted as saying, "Most people can get away with checking their credit reports and scores annually, but if you are intentionally working to improve your credit, I personally think that checking it more often is the way to go. When I was putting a lot of effort into earning a great score, I checked it once per month. That way, I could see which disputed errors were still on my report and which had been corrected and taken off. I could see if any new errors had been tacked on. I could see exactly what I'd done to increase my score, and it showed me just what was still holding it back—in other words, what still needed more work. If it really matters to you, take the time to stay on top of it."
Money Talks News is a consumer/personal finance TV news feature whose tag line reads, "We'll Help You Save Money and Build Wealth." It airs in approximately 80 cities across the U.S. and on the Web. Money Talks News writer Angela Colley's background includes mortgage and real estate. She resides in New Orleans.
About RoadFish.com
RoadFish.com is a men's lifestyle and finance magazine that caters to motivated males, generally in their 30s and 40s, who share a passion for life and are eager to conquer self-set goals for themselves. In addition to featuring articles about men's luxury items and dating advice, RoadFish.com also includes hotel and restaurant reviews, and dishes out personal finance advice on everything from budgeting to building a great credit score.