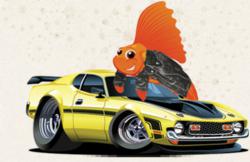 San Diego, CA (PRWEB) October 02, 2012
RoadFish.com has created a name for the company on the web as a go-to lifestyle and finance hub for men looking for fresh, personal articles with expert advice. The site offers reviews on everything from personal finance management software to men-friendly spas, as well as articles that help consumers stay on track with their dating lives and keep with the latest fashion trends. For one of its recent articles, the site outlines the positive benefits of a high credit score. Written from the perspective of Senior Staff Writer of RoadFish, the article is chock-full of RoadFish.com's tongue-in-cheek sarcasm, but does not skimp on the list of benefits in obtaining and maintaining a high credit score. The article points out that some credit score myths are exactly that and have grown to such mythic proportions people will do almost anything to get the credit score they desire. "There's more than one way to get a great credit score. It actually most definitely does NOT mean that you're racked up a huge amount of debt, because accruing too much debt actually bodes poorly for your score," says the Senior Staff Writer of RoadFish.
The article on RoadFish.com gives consumers an easy way to begin the process of obtaining a higher credit score. For those seeking to maintain their high credit score, the article also offers some tips on how to know when one s receiving poor advice on credit score ratings, getting a credit check, and how credit works. "Don't believe everything you read– even if it's in a newspaper!" says the Senior Staff Writer of RoadFish.
About RoadFish.com
RoadFish.com lifestyle and finance magazine is an online men's magazine that commonly features articles on travel, lifestyle, and dating advice for men. RoadFish.com readers tend to be guys in their 30's and 40's, most of who have already set and achieved high personal goals for themselves, and are heading steadily towards a new goal. RoadFish.com men's lifestyle and finance magazine features stories on men's luxury items, travel finance tips, beautiful women, and information on managing budget and personal finances.