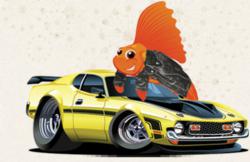 For one thing, pay off your debt. Keeping a budget helps BIG time. For another, don't stop using your credit cards once they're paid off.
New York, NY (PRWEB) December 30, 2012
RoadFish.com men's lifestyle and finance magazine today issued their statement regarding the apparently new trend of taking credit reports into consideration when dating a new flame. The New York Times published an article recently describing the experience of a Chicago flight attendant who was asked about her credit score on a first date, then subsequently dumped because her credit score, deemed too low by her date, was a "deal-breaker." RoadFish.com weighs in on why this trend might be popping up now, and how it could affect future romances.
Jessica Silver-Greenberg of the New York Times recently reported that 31-year-old Jessica LaShawn, a Chicago flight attendant, went on a first date with a gentleman who shared a lot in common with her, and presumed that it was going quite well until the man inquired about her credit score. He asked Jessica what her credit score was, and she answered honestly. LaShawn is quoted within the article as saying, "It was as if the music stopped. It was really awkward because he kept telling me that I was the perfect girl for him, but that a low credit score was his deal-breaker."
Silver-Greenberg goes on to report that credit reports have actually become quite a big factor in dating decisions, according to interviews from over 50 daters under the age of 40 years old from all over the U.S. Manisha Thakor, founder and chief executive of financial advisory firm MoneyZen Wealth Management, is quoted as saying, "Credit scores are like the dating equivalent of a sexually transmitted disease test. It's a shorthand way to get a sense of someone's financial past the same way an S.T.D. test gives some information about a person's sexual past."
RoadFish.com believes that the new fad may not only be due to economic times being what they are, and more attention being placed on having good credit, but to the difference in dating. RoadFish.com's Senior staff writer is quoted as saying, "It's interesting to me how dating has evolved so much in the past 20 years. Now, there so many more means of communicating with someone—Facebook, FaceTime, Skype, SnapChat, the list goes on. And more people than ever are connecting via online dating service. Not only that, but social perceptions have changed. It's much more acceptable, even a norm, to be single later in life. People are waiting to settle down because they are working on their careers, or perhaps just being pickier about choosing their mate. It makes sense that as people become more selective, they would incorporate different methods for determining whether an individual would be a viable long-term mate."
The above-mentioned New York Times article states that financial planners, along with dating site executives and marriage counselors, are saying that they are currently hearing a lot more concerns from people about credit than previously. MoneyZen's Thakor estimates that she is getting about twice as many inquiries about credit scores now as she did before the recession began. The article reports that online dating websites such as creditscoredating.com and datemycreditscore.com are catering specifically for singles searching for a mate who has great credit. Creditscorerating.com lets members view credit scores of other singles who also subscribe to the site, and have posted their scores online. The site's tagline is "Good Credit is Sexy."
RoadFish.com has several suggestions for ways that singles—and those in relationships also—can work on improving their credit score. RoadFish.com's Senior staff writer is quoted as saying, "If the ladies want good credit scores, let's give them good scores fellas. For one thing, pay off your debt. Keeping a budget helps BIG time. For another, don't stop using your credit cards once they're paid off. You need to use credit responsibly, in order to raise it. Just make sure you can pay off everything at the end of the month so you keep either a very low balance, or none at all. And lastly, don't be afraid to get help from financial apps like Mint.com, DebtMinder, and the new Experian tool, Score Planner. That new Bret Michaels commercial with the credit score mystery slider shows you how different future circumstances can affect your credit. You can use the Score Planner to show you situations to avoid, and things not to do that will lower your score."
The Times article ends by saying that flight attendant LaShawn is still shocked that her credit score made such a big difference during the course of a potentially really good date, despite the gaining popularity of credit scores being looked at during dating. The date who'd asked her about her score on date number one reportedly texted her apologetically a couple of days afterwards, claiming that the problem wasn't her, just her credit score.
About RoadFish.com:
RoadFish.com men's lifestyle and finance magazine is geared towards gentlemen readers in their 30's and 40's, and features articles on dating, travel, and finance. RoadFish.com targets males who are successful in their personal and professional lives, and are seeking new aspirations for themselves. RoadFish.com's articles span from restaurant reviews, to luxury men's items, to financial advice such as recommendations for financial apps and online tools. RoadFish.com is owned and operated by Purpose, Inc.