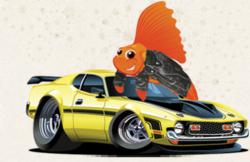 I have seen it more times than you know, where people are unwittingly doing damage to their credit scores simply because they don't know any better.
New York, NY (PRWEB) May 22, 2013
RoadFish.com men's lifestyle and finance magazine issued their statement regarding new information coming forth from a May 13, 2013 Consumer Federation of America conference, and their take on this may help financial consumers as their misconceptions appear to be quite widespread. RoadFish.com clears up some misunderstandings about how credit is factored, and encourages consumers to stay on top of their credit reports and scores with their new knowledge.
According to Ashlea Ebeling of Forbes, the Consumer Federation of America and VantageScore Solutions held a conference which revealed prevalent misconceptions about the key factors of credit scores in many Americans. Ebeling states that the Consumer Federation of America suspects that these misunderstandings could be costing consumers tens of thousands of dollars. The President and CEO of VantageScore Solutions, Barrett Burns, is quoted as saying, "People who fail to understand exactly what can impact their score have little incentive to manage the things that can truly make a difference."
RoadFish.com is not surprised to hear this data, and says that they have seen similar things from friends and family members. RoadFish.com's senior staff writer is quoted as saying, "I have seen it more times than you know, where people are unwittingly doing damage to their credit scores simply because they don't know any better. A friend who closed her credit card account when she paid it off because she figured that would actually help her credit, or parents who co-signed on their child's student loan then took a blow to their credit when Jr. missed a couple months of payments years later. It's not that people don't think, it's just that they don't know. And not knowing can be very costly."
Ebeling reports in the above-mentioned Forbes article that a low score can actually cost a person thousands of dollars on one loan alone. She states that on a run-of-the-mill 60-month, $20,000 auto loan a borrower with great credit will end up paying about $5,000 less in interest rates because of their good credit than somebody with poor credit. What's more, when consumers were polled with this scenario in question form, only one out of five people actually got it right.
RoadFish.com implored consumers to brush up on their credit knowledge. RoadFish.com's Senior staff writer is quoted as saying, "It can literally be like money in your pocket to have a good credit score, but it takes truly understanding how a credit score works to maintain a decent one. Most people know the basics—pay bills on time, no late payments, and try to keep your debt down to under 30% of your allowed limit. But there are oddities like closing accounts that will actually cause your credit to take a hit, and then of course there's the standing offer of each consumer being allowed three free credit reports per year—one from each of the credit bureaus—that people know about but seldom take advantage of. This one act is so, so crucial because there could be junk on your credit report weighing down your score, fixable stuff, erroneous stuff, and you'll never know it until you actually pull it up and look it over. I would implore more consumers to jump on this bandwagon. And if you don't understand how a credit report and credit score are linked, then look that up too. Knowledge truly is power, people."
Ebeling states that commonly held misconceptions about credit are that it is affected by age and marital status. Two-fifths of the people polled believed that somebody's age and their marital status would impact a score. She makes it clear that ethnicity, religion, and location are also factors that have nothing to do with score.
About RoadFish.com:
RoadFish.com, an online lifestyle and finance magazine, is targeted towards accomplished men in their 30's and 40's who enjoy setting and meeting new goals for themselves. RoadFish.com generally publishes stories about hot chicks, men's luxury items, restaurant reviews, and their pick for the top online dating service. RoadFish.com also writes a fair amount of financial articles, focusing on offering tips and advice with regard to personal finances and the importance of maintaining good credit, even for non-borrowers. RoadFish.com is owned and operated by Purpose, Inc.