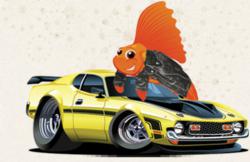 I think it's fascinating that most articles don't recommend this one step more often, because I've found it to be crucial in order to maintain a good score...
Los Angeles, CA (PRWEB) February 20, 2013
RoadFish.com men's lifestyle and finance magazine today issued their observations regarding ways to perk up a lower credit score, and their take on this may truly help consumers as it is a seemingly little-publicized piece of advice. RoadFish.com's suggestions come in response to a couple of recent articles in the media, including one published on Lifehacker.com by Adam Dachis and another posted on WRAL by Steve Rhode. Both articles offer advice for consumers to work on their credit.
Dachis' article in Lifehacker details how consumers can work on beefing up their credit score if they are unhappy with the number they see. Suggestions include curbing unnecessary spending, paying off debt, checking one's credit report at least once per year, and reporting any errors with the responsible credit bureau. Rhodes' WRAL article, written in response to a question about how one would-be homebuyer could develop his credit score to the point where he is eligible for a home loan, also recommended checking his credit report, to ensure that unsecured credit is being reported to the credit bureaus, and lastly to simply let time go by since the most recent delinquent account.
RoadFish.com maintains that there is one more key ingredient that is almost essential to restoring one's credit. RoadFish.com's Senior staff writer is quoted as saying, "I think it's fascinating that most articles don't recommend this one step more often, because I've found it to be crucial in order to maintain a good score as well as to keep personal finances in check. The secret ingredient is to keep a budget. Think about it—paying down debt and curbing unnecessary spending will certainly help your credit, but a budget is the game plan that will help you do both of those things. How do you know what expenses to trim without a budget? How do you figure out where you can save some extra cash to pay off debt unless you can see exactly where your money is being spent? Budgets are a key player in the game of 'let's give my credit score a facelift.'"
One of RoadFish.com's favorite free online budget templates is Microsoft's Simple Monthly Budget, which allows space for each user to write in their monthly expenses, and then it tallies the percentage of income spent each month. RoadFish.com also likes the free services that Mint.com has to offer, including Mint's SmartPhone app and the bill reminders that Mint sends. Mint.com allows users to streamline their bank accounts, painting a complete picture of each user's finances. The app has features such as reminders for users about upcoming bills, and monthly budget breakdowns.
RoadFish.com strongly encourages individuals and households to keep budgets, regardless of whether their goal is a better credit score or not. RoadFish.com's Senior staff writer is quoted as saying, "Budgets are for everyone, whether your goal is to beef up your credit score or simply to figure out where the heck your paycheck goes each month. For those working on their credit score, start with the budget, then work on all those other things that the rest of the articles suggest—pay down debt, only use your credit card for purchases you can pay off, and so forth. There's also a great free credit report score planner app from Experian that helps users figure out how different scenarios in their life can and will affect their credit score. It's another tool to assist consumers as they work on their score."
In Adam Dachis' Lifehacker article, he makes a valid point that even those who don't necessarily need a great credit score right now might make a wise decision in looking to work on it in the present. He states, "You may not need a high score right now, but in the future you'll be glad to have it."
About RoadFish.com:
RoadFish.com is an online men's lifestyle and finance magazine geared towards outgoing and accomplished gentlemen in their 30's and 40's. The publication commonly features such articles as luxury items for men, hot chicks and dating, and reviews of restaurants and hotels. RoadFish.com also regularly writes about personal finances and offers financial tips, such as when and why consumers should check their credit. RoadFish.com is owned and operated by Purpose, Inc.