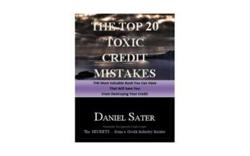 Melville, NY (PRWEB) April 11, 2013
Fast credit repair solutions are what everyone seeks after the stringent periods of the recent recessions. Having done careless mistakes in one's financial history, a ruined credit score has to be fixed as soon as possible in order to ensure that you get the best rates with mortgages and loans in the future. People often do not realize that there are minor, seemingly insignificant things that everyone regularly does, that can damage a credit score tremendously. With years of accumulated experience in the credit score improvement field, Daniel Sater has brought together an exquisite collection of the top 20 credit mistakes that people generally make.
"Top 20 Credit Mistakes" is a concise, quick read guide that gets the message across very effectively. The writer Daniel Sater, famous for his sense of humor, has composed the book in a similar fashion, with anecdotes and laughter that makes the reading experience a pleasure. The book has been divided into four different sections, each dealing with a specific aspect of one's credit existence. The first section deals with all the basics that are attached to one's credit so that the non-technical readers can easily get to know what they'll be reading. The next two sections deal specifically in the mistakes, explaining in detail what people get into and how can they avoid. The last section talks about different credit problem situations that a person can find himself him, and how can he get out.
The book is being featured at a mere $9.95 at the website of Daniel Sater's company Credit Scoring Advisor. For details, click http://www.creditscoringadvisor.com/
Mr. Daniel Sater is currently giving a series of lectures to employees at the IGHL (Independent Group Home Living Program, Inc.) under the name of "Got Credit" which is closed to the public. Talking to a very large audience at every session, Daniel Sater continues to receive feedback like "Awesome", "Fun and I really learned a lot" Best part of course? "The Instructor". Mr. Sater creates a high energy and humorous approach to an otherwise dull topic that is sure to capture the audience's attention while imparting valuable information. Mr. Daniel Sater is available to be contacted for educational speaking engagements, please contact Mr. Sater by going to http://www.creditscoringadvisor.com/.
About Daniel Sater:
Mr. Daniel Sater is a Nationally Recognized Credit Expert with certification as a Certified Credit Expert (CCE) and as a Certified FICO Professional. He trains and coaches numerous companies throughout the country. With years of accumulated experience, Daniel has helped thousands of individuals improve their credit scores. He feels pride in being one of the three people that formulated the Certification program for Credit CRM and has gone on to compose a Certification Exam for (NARCRA) National Association of Responsible Credit Repair Advisors and currently is re-creating the Certification Exam for (NACSO) the National Association of Credit service Organizations. Both are trade associations of the Credit Repair Industry. He is currently associated with Credit Scoring Advisor.
Contact:
Mr. Daniel Sater
Credit Scoring Advisor
631-392-8685
555 Broadhollow Rd Suite 329 Melville, NY 11747
Marketing(at)CreditScoringAdvisor(dot)com
http://www.creditscoringadvisor.com/