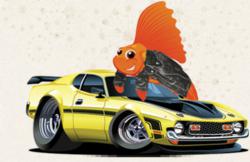 Add a quotableEverybody who has been sent to collections but paid off their debt will see a jump in their scores.
New York, NY (PRWEB) April 02, 2013
RoadFish.com men's lifestyle and finance magazine today issued their statement regarding the possibility of a new credit scoring model being implemented, one that would help millions of people better their existing scores and may be able to help establish credit for many who previously did not qualify. RoadFish.com expressed support over a couple of the changes, but had criticisms of certain aspects of the new model as well.
Blake Ellis of CNN Money reported that a new credit scoring model is in the works, one that will be used in the latest version of the credit score created by all three major credit reporting bureaus called VantageScore. The article states that the changes could potentially bring up the scores of millions, and help establish credit for many more who previously did not One of the bigger changes to the model will be that any debts that have gone into collections buts have been either paid in full or settled will no longer appear on a creditreport. According to John Ulzheimer, the president of consumer education for SmartCredit.com, currently all debts that go into collections are factored into credit scores for as many as seven years—even if they have been paid off in the meantime. Ulzheimer is quoted as saying, "Consumers who have a zero-dollar balance on collections and no other negative information on their credit reports should see their VantageScore's [go up] significantly."
RoadFish.com has been advocating for changes to be made to the existing credit scoring model, but says that this change is not exactly what they had in mind. RoadFish.com's Senior staff writer is quoted as saying, "This change is like inflation for credit scores. Everybody who has been sent to collections but paid off their debt will see a jump in their scores. I have a feeling that means that millions of people will, almost overnight, will suddenly see a better score and then average score will jump too—inflation, essentially. I personally have no problem with collections activity being reported to the credit bureaus in full. If somebody avoided a bill for so long that it went to collections, I think that is worthwhile information for a potential lender to know. Under this new rule, that will be kept under wraps."
According to the above-mentioned CNN article, another big change in the credit scoring model will help victims of natural disasters benefit from good financial behaviors like making timely payments. They will be shielded from negative accounts due to the nature of their hardship, unlike the current model which results in it being quite difficult for victims of natural disasters to better their credit scores in the aftermath. In addition, the new model will also include rent and utility payment records, which could help establish credit for consumers who don't have credit cards or loans.
RoadFish.com is supportive of these changes, seeing the good that can come from them. RoadFish.com's Senior staff writer is quoted as saying, "This is the type of change we were hoping to see: credit reports including things like cell phone bills, rent payments, cable and electric payments. These things all prove trustworthiness with money, but currently aren't required to be included and when they are included, only the negative accounts are included. I could see this being incredibly beneficial to many people who do not currently have enough credit history to generate a credit score."
Ellis reports that VantageScore is the second most popular credit scoring model, used by seven of the top ten financial institutions and six of the top ten credit card issuers.
About RoadFish.com:
RoadFish.com is a men's lifestyle and finance magazine featured online and aimed at male readers in their 30's and 40's. RoadFish.com reports on hot chicks, internet dating advice, and restaurant reviews. RoadFish.com also gives financial advice on budgeting and financial planning, and reports on the credit scoring model. RoadFish.com is owned and operated by Purpose, Inc.