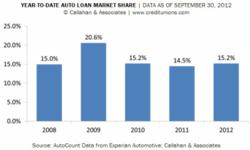 Washington, DC (PRWEB) December 18, 2012
According to Callahan & Associates, credit unions have increased new auto lending momentum throughout 2012 picking up market share from financiers and banks. New auto loans at credit unions increased 5.8% annually as of the end of September. That growth is nearly nine times faster than June's annual rate of 66 basis points. Used auto loan growth is also strong.Credit unions posted a 7.9% annual increase as of September, up from 7.2% growth in June.
"Credit unions are building relationships with auto dealers to establish indirect lending pipelines and attract new members," said Andrew Bolton, senior analyst at Callahan & Associates. "Surges in new auto sales, which were up 19.5% year-to-date in September, have made new member acquisition through indirect auto lending even more attractive." (1)
This accelerated auto loan origination growth will likely continue into the fourth quarter as the auto industry posts record sales in the wake of Hurricane Sandy. According to AutoCount, auto makers posted their best monthly sales result in almost five years in November, selling 1.1 million new cars.
Auto lending is a key loan product for many credit unions, particularly smaller credit unions that rely on consumer and auto loans. Third quarter performance data illustrates credit unions' strength in the auto lending market, and the industry should be able to capitalize on the lending opportunity improving auto sales present in 2013.
Visit CreditUnions.com for up-to-date analysis of performance trends and analysis of the credit union industry.
1. Data courtesy of Motor Intelligence