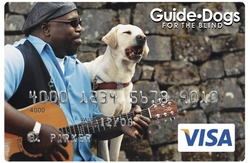 For years many large nonprofits and member groups have earned incremental revenue from affinity credit card programs, but most small nonprofits have been locked out of this opportunity—until now
KANSAS CITY, Mo. & NEW YORK (PRWEB) June 25, 2008
The release reads:
UMB FINANCIAL TEAMS WITH CARDPARTNER TO OFFER AFFINITY CREDIT CARD PROGRAMS TO UNDERSERVED GROUPS
-- Proprietary Online Tools Put Affinity Credit Card Programs Within Reach for Smaller Nonprofits & Member Groups --
-- Early Adopters Include Guide Dogs for the Blind, Pancreatic Cancer Action Network, and Oregon-California Trails Association --
UMB Financial Corporation (NASDAQ:UMBF), a Kansas City-based multi-bank holding company, and CardPartner, Inc., a New York-based company that markets VISA™ credit cards, said today they have joined forces to offer Visa Platinum affinity credit card programs to thousands of small nonprofits and member-based groups underserved by the large credit card banks.
"For years many large nonprofits and member groups have earned incremental revenue from affinity credit card programs, but most small nonprofits have been locked out of this opportunity—until now," says Doug Davis, CardPartner's Senior Director of Sales and Marketing. "CardPartner and UMB are changing the rules. We offer customized affinity credit card programs specifically for smaller nonprofits and member groups. Even the smallest group earns incremental revenue at rates comparable to large groups."
CardPartner (http://www.cardpartner.com) offers proprietary online tools that nonprofits and member groups use to design and offer their own Visa® Platinum credit card. UMB makes the credit decisions, issues the card, and manages account relationships.
An affinity credit card promotes a group's cause, allows supporters to express their affinity for that cause, and pays the group a finder's fee and a portion of charge volume.
Program Features & Benefits
For groups
--   Identity: Most large affinity card programs offer supporters a single card design. The CardPartner/UMB program allows groups to offer members and supporters up to five design choices. Cards incorporate logos and images in designs that are especially meaningful to supporters.
-- Control: Groups never turn over their mailing lists. All contact is between the group and its members or supporters.
-- Simplicity: Groups get user-friendly, proprietary online tools to design their own program. Plus, a customized micro site and marketing toolkit to communicate the card program to supporters/members
-- Quick set-up: The card program can be up and running in less than two weeks
-- Rewards: $50 cash bonus for each card activation (card used at least once within 90 days of issue), plus a percentage of the monthly spend charged to each card paid to the group monthly
-- Revenue Calculator: An online tool that models how much revenue a group might earn from its affinity card program
-- No setup costs
For cardholders
--   No annual fee -- 0% APR on purchases and balance transfers for the first six months and a low, fixed rate after six months for all approved applicants (0% introductory APR on purchases and balance transfers for the first six months. Thereafter, the APR will vary based upon the Prime Rate plus 5.90%. As of June 1, 2008, the APR for both purchases and balance transfers is 11.15%. Balance transfer offer limited to balance transfer requests submitted with application, from an issuer other than UMB Bank, n.a. or its affiliates.) -- Purchase protection -- Zero Liability protection for unauthorized purchases -- Emergency cash and card replacement -- Lost/stolen card reporting service -- 24-hour roadside assistance -- Warranty manager service -- Lost luggage replacement Mark Levitt, former MBNA Bank executive and now CardPartner's Senior Director of Creative Services, says, "Most small nonprofits and membership groups don't have the resources to support a traditional affinity card program. By providing powerful online tools, the CardPartner/UMB program makes it easy for groups to launch, market, and maintain their own programs. And the more effectively a group markets the card to members and supporters, the more valuable the program becomes."
Nonprofits, Schools, Clubs, Teams Among Eligible
Groups now eligible for a Visa Platinum credit card program include local, regional and national professional and fraternal groups, social clubs, local and regional charities, charitable foundations, fundraising organizations, private and other schools, research organizations, health and wellness groups, sports teams, social clubs, and more.
Early adopters of the UMB/CardPartner program include Guide Dogs for the Blind, the Pancreatic Cancer Action Network, and the Oregon-California Trails Association, each of whom works with CardPartner and UMB to offer affinity credit cards to their thousands of members and supporters.
Commenting on the affinity credit card program her organization recently launched with UMB and CardPartner, Nancy Gardner, president and CEO of Guide Dogs for the Blind says, "We offer our services free-of-charge to our students, including a Guide Dog, air transportation, room and board, training, equipment, financial assistance for veterinary care and alumni support services. We are pleased the Guide Dogs for the Blind Platinum Visa® credit card will support our mission and generate additional funds for our organization."
George Schmelzel, Senior Vice President of UMB Card Services, says, "This specialized card program offered to smaller groups competes effectively with similar programs offered by the major credit card issuers. This unique arrangement creates a simple, safe and secure method for small organizations to reap the benefits of an affinity credit card program that larger organizations have capitalized on for years."
About CardPartner
CardPartner, Inc.(http://www.cardpartner.com) is an online company that specializes in helping smaller U.S.-based membership organizations and charities create custom Visa credit card programs. CardPartner is a unit of the privately held Serverside Group, a technology provider to many of the world's leading banks. Visa credit cards offered through CardPartner are issued by UMB Bank, n.a., headquartered in Kansas City, Mo. UMB Bank approves credit decisions, grants credit, and manages the administration and cardholder service for card programs offered by CardPartner.
About UMB
UMB Financial Corporation (NASDAQ:UMBF) is a multi-bank holding company headquartered in Kansas City, Mo., offering complete banking, asset management, health spending solutions and related financial services to both individual and business customers nationwide. Its banking subsidiaries own and operate 136 banking centers throughout Missouri, Illinois, Colorado, Kansas, Oklahoma, Nebraska and Arizona. Subsidiaries of the holding company and the lead bank, UMB Bank, n.a., include an investment services group based in Milwaukee, Wis., single-purpose companies that deal with brokerage services and insurance, and registered investment advisors for proprietary mutual funds. More information is available at http://www.umb.com.
MULTIMEDIA GALLERY http://www.businesswire.com/cgi-bin/mmg.cgi?eid=5716103