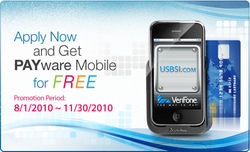 City of Industry, CA (Vocus) November 8, 2010
U.S. Bankcard Services, Inc. (USBSI), a leading nationwide Member Services Provider (MSP) for credit card processing, continues to offer cutting-edge technology to the merchant market. USBSI is offering a Mobile POS System - "PAYware Mobile" from VeriFone, an industry leader in POS Systems. This Mobile POS System has many industry and business specific applications.
Along with the Mobile POS System product launch, USBSI is offering a promotion of Free "PAYware Mobile" Device from August 1st, 2010 extended to November 30th, 2010. The "PAYware Mobile" device is valued at $150 and supplies are limited to 100 units. The 'PAYware Mobile' promotion eligibility is simple: Any merchant who has an Apple iPhone 3G or 3GS and is approved for a merchant account through USBSI within the promotional period. Prospective USBSI merchants can go to the company's website or inquire directly with a Sales Representative by calling 1-888-525-8558.
The USBSI PAYware Mobile product itself consists of a price-competitive, PCI-DSS compliant mobile POS System and a service package. This package includes a free PAYware Mobile software for use on the iPhone 3G or 3GS, which is end-to-end encrypted so that all transactions remain secure, plus a snap-on, ergonomic PAYware Mobile device (key entry is also possible) which easily fits in a pocket or bag. Please note that only the first 100 approved accounts will receive a free "PAYware Mobile" device.
The built-in stylus makes signature capture easy and transactions instantly become email receipts. In addition, merchants will receive a total USBSI mobile solution and a support team available to assist them whenever and wherever they might transact. Service and cash-based industries such as restaurants, Landscapers and General Contractors, will greatly benefit from this new product, especially those restaurants that deliver. Moreover, open air market merchants will also realize the benefits to having this almost effortless means of payment - the possibilities are endless. And please remember: for a limited time only, if a USBSI merchant account is approved between August 1st, 2010 and November 30th, 2010, the newly approved merchant will receive a free "PAYware Mobile" device. Other charges and fees will apply.
About U.S. Bankcard Services, Inc. (USBSI):
U.S. Bankcard Services, Inc. is a top rated "MSP", offering competitive rates, incredible customer service support and cutting edge technology for credit card processing service. USBSI offers a wide array of value-added services, including QuickDining.com (QD) Restaurant eCommerce, Gift Card services, Check Guarantee, PCI –DSS Compliance Consultancy, 24-7 Multilingual Customer Service and technical support. For more information please visit USBSI's official website OR Call us at: 1-888-525-8558.
###