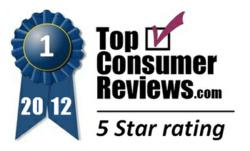 Overland Park, KS (PRWEB) May 11, 2012
TopConsumerReviews.com has released their ratings for the best No Annual Fee Credit Cards available today.
Zero annual fee credit cards can save a consumer $100 or more each year in charges to their credit card. These expensive fees are often billed with the first use of the credit card or at a later date – sometimes surprising the card holder that wasn't aware of the associated fees and policies of using the card. Whether or not a credit card charges an annual fee is one differentiator consumers can use when looking for their next credit card.
How to choose a zero annual fee credit card? Many credit card offers that show up in the mail promise a pre-approved credit line and a no hassle application process. But what about the fees? Often the long-term interest rate and annual fee information is buried in the material and hard to find. However, the internet has opened the door for smart consumers and their credit card search. Many credit card offers are available online and compete hard for new business. People can find a variety of credit cards with low interest rates, easy approval, and no annual fees. Independent reviews of credit card offers are a great source of information that can help consumers make a smart decision about their next credit card.
"Avoiding annual credit card fees is a financially savvy move," explained Brian Dolezal, of TopConsumerReviews.com, LLC. "Consumers are often surprised to see a hefty annual charge on their credit card statement that they didn't realize was coming. Credit cards can be sneaky about placing annual fee charges in the fine print – something that many consumers don't bother to read before signing up. The extensive selection of no annual fee credit cards available today means that most customers don't have to settle."
To find out more about no annual fee credit cards, including reviews and comparison rankings, please visit the No Annual Fee Credit Cards category of TopConsumerReviews.com at http://www.topconsumerreviews.com/credit-cards-no-annual-fees/.
About TopConsumerReviews.com
TopConsumerReviews.com is a leading provider of independent reviews and rankings of hundreds of consumer products and services. From the best elliptical machines and hair growth treatments, to mortgage refinancing and payday loan reviews, TopConsumerReviews.com delivers in-depth product evaluations in order to make your purchasing decision easier.