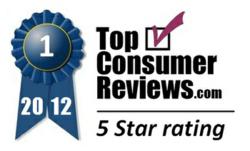 Rewards credit cards are rapidly gaining in popularity for today's consumer... you'll appreciate the benefits of a rewards credit card that's geared for you.
Overland Park, KS (PRWEB) May 15, 2012
TopConsumerReviews.com has released their ratings for the best Rewards Credit Cards available today.
A rewards credit card essentially pays card holders points for using their credit card throughout any given month. Points are typically earned on a 1-for-1 basis based on the amount of the purchase, but may vary by each company's policies. As reward points accrue, the credit card holder may exchange them for various things including airline tickets, cash, hotel stays, home electronics, and more. Many people have discovered that by simply using their rewards program credit card, they can earn fabulous items that come at no expense if the balance is paid off each month.
How to choose a solid rewards program credit card? Reward credit card commercials are abundant. Many companies entice customers with easy to use, hassle free, credit card policies. But with so many credit cards to choose from it can feel overwhelming making a selection. The first question a consumer should ask is what rewards are most beneficial? Is getting a new big screen tv enticing? Does taking a family vacation without breaking the bank sound tempting? Deciding which rewards are the most attractive helps narrow down the choices. When looking for a rewards credit card, savvy consumers will also consider the interest rate applied toward balances, along with penalties and annual, late, or over limit fees. Utilizing independent reviews of credit card offers can often help consumers make the best decision.
"Reward credit cards are rapidly gaining in popularity for today's consumer," explained Brian Dolezal, of TopConsumerReviews.com, LLC. "Credit card rewards programs allow people to afford lavish vacations and expensive gadgets they couldn't otherwise fit into their budget. Responsible spending also means these perks and rewards don't have to come with a fee if you pay off your balance each month. Many consumers even charge their mortgage payments and other monthly bills with their credit cards to accrue additional points faster. Whether you earn points quickly or over a longer period of time, you'll appreciate the benefits of a rewards credit card that's geared for you."
To find out more about reward credit cards, including reviews and comparison rankings, please visit the Reward Programs Credit Cards category of TopConsumerReviews.com at http://www.topconsumerreviews.com/credit-cards-rewards-programs/.
About TopConsumerReviews.com
TopConsumerReviews.com is a leading provider of independent reviews and rankings of hundreds of consumer products and services. From debt settlement and home security, to fast divorce and the best treadmills, TopConsumerReviews.com delivers in-depth product evaluations in order to make your purchasing decision easier.