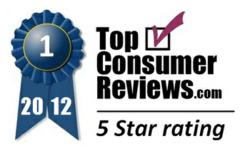 Cash back credit cards are the most popular rewards cards today... and in today's economy, a little extra cash can go a long way.
Overland Park, KS (PRWEB) July 05, 2012
TopConsumerReviews.com has released their ratings for the best Cash Back Credit Cards available today.
Cash back credit cards are perfect for those responsible consumers looking for a little reward earned by paying off bills on time. Cash back credit cards pay card holders a percentage of each qualifying purchase made using the card. Cash back rewards are easy to use and allow the most flexibility of any rewards programs - not limiting users to airline tickets or others rewards that may not be useful to the cardholder.
Paying off credit card bills can be a tricky thing to handle- but for those who've mastered it, nothing compares to seeing a certain percentage of that which one has paid off going back into their pocket again. Some of these credit cards even offer additional rewards as an added bonus to getting ones bills paid on time.
Of course, one of the best perks is the positive credit history one accumulates by paying off their bills. Cash back credit cards are an excellent way people can reward themselves for paying off their bills. An improved credit score, coupled with money back and additional perks, are all things that can help the consumer be a savvy shopper.
How to choose a cash back credit card? Generally, a good credit score and strong payment history are requirements to obtaining a cash back credit card. Often cash back credit card applications arrive ready-to-use in the mail. However, responsible consumers will compare different credit card offers to find the one that best fits their needs. When looking at cash back credit card offers, shoppers should read the fine print and be aware of any annual fees, interest rates, penalties and policies. Shopping online for a cash back credit card offers the widest range of selection. Utilizing independent reviews offer a well-informed decision for the consumer that is deciding on which cash back credit card is right for them.
"Cash back credit cards are the most popular rewards cards today," explained Brian Dolezal, of TopConsumerReviews.com, LLC. "Receiving cash back as a reward for using your credit card opens the door for cardholders to benefit their bottom line. Many of these credit cards also offer bonus perks with certain retailers, so in addition to getting a portion of your money back, you receive discounts and other rebates as well. A cash back credit card rewards the responsible consumer, and gives them extra money that can be used however they see fit. And in today's economy, a little extra cash can go a long way."
To find out more about cash back credit cards, including reviews and comparison rankings, please visit the Cash Back Credit Cards category of TopConsumerReviews.com at
http://www.topconsumerreviews.com/credit-cards-cash-back/.
About TopConsumerReviews.com
TopConsumerReviews.com is a leading provider of independent reviews and rankings of hundreds of consumer products and services. From e-cigarette products and effective hair loss treatments, to the best home gyms and payday loan company reviews, TopConsumerReviews.com delivers in-depth product evaluations in order to make your purchasing decision easier.