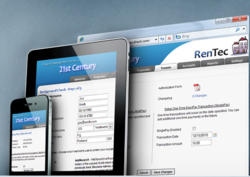 Grants Pass, OR (PRWEB) December 19, 2012
Rentec Direct announces a new time limited promotion to provide a break to struggling landlords this holiday season. Rentec is providing a free premium screening package, which includes a tenant credit check, credit score, nationwide criminal search, and an eviction search. This promotion is good to all new landlords who setup for Rentec tenant screening before the end of the year. As a standard practice, setting up with Rentec tenant screening is also free making this a no-strings-attached opportunity for any landlords placing a tenant before the new year.
Rentec also offers landlords a free guide which teaches landlords how to use the available tenant screening tools. Many landlords are under the impression that tenant credit and criminal reports are not available to them or may be too difficult to obtain. Rentec Direct has a guide for landlords which shows how easy it is to obtain tenant screening reports as well as how these reports are readily available on the internet.
The guide covers the important reasons why all landlords should screen prospective tenants, and explains some of the tragedies experienced by landlords who have skipped this vital step. Also included is a short three minute video showing an actual tenant screening in progress, giving a visual of just how quick and easy it is to run both credit and criminal reports. Next the guide explains just how landlords incorporate the entire tenant screening cost right into the application fee and how this has become standard practice nationwide. Finally, a closing discussion on the vital reports available and the benefits each report provides.
To qualify for this holiday promotion, just visit the Rentec website at http://www.rentecdirect.com/screening/ or visit the tenant screening guide for landlords.
About Rentec Direct
Rentec Direct provides affordable property management software solutions to property managers and landlords. Other popular solutions offered by Rentec Direct include tenant ACH payment processing, tenant credit check services, and online syndication of vacancies to more than 20 popular websites.