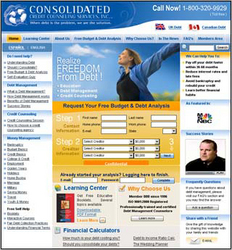 It would benefit people who are struggling with credit card debt to contact Consolidated Credit Counseling Services as soon as possible, before their cash flow gets negatively impacted and they start paying even higher interest rates, penalties and fees on their credit cards
Fort Lauderdale, FL (PRWEB) May 20, 2008
Debt is crushing the American family. Many people are realizing that they can't pay all of their monthly bills on time and they start paying with credit cards, and then the credit cards get maxed and they start missing payments. Americans facing the credit crunch are embarrassed, frustrated and certainly don't feel like talking to their credit card issuers.
The statistics are harrowing--borrowing from cards and other unsecured lines of credit rose an annualized 11.3% in November to $937.5 billion, according to the Federal Reserve. Consumer credit increased by $15.3 billion in March, to $2.56 trillion, the biggest monthly rise since November 2007 and more than double the amount it increased in February, not including home equity loans.
"Many people who call for help don't qualify because they have waited too long to contact us. There seems to be no sense of urgency," says Howard Dvorkin, founder of Consolidated Credit Counseling Services, Inc., a nonprofit organization and author of Credit Hell: How to Dig out of Debt. "It would benefit people who are struggling with credit card debt to contact Consolidated Credit Counseling Services as soon as possible, before their cash flow gets negatively impacted and they start paying even higher interest rates, penalties and fees on their credit cards," he continued.
Consolidating debt vs. Debt settlement
When people find themselves falling behind on their day-to-day payments and spiraling deeper into debt it would benefit them to call a credit counseling organization. They should be certain that the company is reputable, do their homework and research. A credit counseling agency will contact their credit card issuers and set up one monthly payment. They may also get lower interest rates and have many of the fees they owe waived. They may pay a fee to the organization but they will also get the proper education to prepare themselves for a more stable financial future. Many companies have free educational information that instructs consumers on how to save money, budget, and become overall better money managers.
Debt settlement companies work in a different manner. Most people who contact a debt settlement company have waited much too long and are in collections. Some debt settlement companies will tell them to stop paying their bills and instead put the money they save into a trust - which the debt settlement company sets up. Once they save the negotiated amount of money that they owe the debt is paid off but their financial woes are not over. The company takes a hefty fee and they also harm the person's credit score. Most people will also likely get taxed on the difference that they owed and the amount settled upon. The IRS will send a 1099 form and they will be responsible for paying taxes on that money.
Debt settlement companies are better for old debts that must be paid off; they are best used only when people are most desperate. A credit counseling agency benefits those with recent debts and it may also help with credit scores because the people in counseling are paying off the debt they owe, not missing payments.
Take Charge of your Debt:
No one is alone during these volatile times. Thousands of Americans are facing debt, foreclosure and other financial adversities. The longer they wait the more serious their situation will become. If they are only making the minimum payments on their credit cards then they will be paying them off for what could be years and most of their money will be going toward the interest.
"If a person decides not to make payments then they will face debt settlement or bankruptcy and they will be crippling their credit score. They should contact someone who can help. At the very least they will get feedback on their financial situation and a few suggestions on what they can do to remedy their debt," advises Dvorkin.
About Consolidated Credit Counseling Services, Inc.:
Headquartered in Ft. Lauderdale, Florida, since 1993, Consolidated Credit Counseling Services' mission is to assist families in ending financial crisis and solving money management problems through education and professional counseling. The firm is a nationally recognized, federally approved, non-profit, tax-exempt organization. http://www.ConsolidatedCredit.org.
###