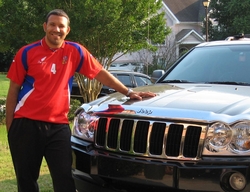 It's nice to know that I have a great legal team, that have the keys to the door leading out of the big bureaus' flawed system.
Salt Lake City, UT (PRWEB) June 11, 2008
Dealing with the higher standard for loan requirements since the sub-prime loan industry went belly up, mortgage brokers and auto lenders are becoming more than just financial liaisons, they have stepped up to the role of consumer advocate. Many have helped their customers improve their chances of getting a loan through lawful credit error correction services by working with Lexington Law, the largest credit correction law firm in the nation.
The credit crunch is being blamed for more than the mortgage meltdown, it is said to be responsible for a large gash in bank profits. Many lenders are trying to find ways to replace the sub-prime customers that can no longer be approved when applying for a mortgage or auto loan.
"When I came to Lexington Law I did not realize the opportunity to help people; this job is a blessing." said Wanda Ball, an auto financier out of Georgia. "When I sign someone up and they are hugging me and thanking me - it is amazing for someone to get their life and credit back together."
But more importantly for the lenders, they are able to see a more accurate reflection of their customers' credit worthiness - and close more loans. "This is the secret weapon in your dealership arsenal," said Alton McGriff, Director of Floor Sales at Premier Automotive Group. "I am one of the top closers in the automotive profession, and credit repair is just sexy. I close more car deals, and get more hugs, and invites out for a date (I am a single guy), because I give people the hope that is Lexington Law."
Te Lawrence, the Financial Services Affiliate Consultant for Lexington Law says that the program was created to help clients accurately reflect their credit risk. "A negative item can stay on your credit report for up to seven years, and that can be extremely damaging to someone's credit score. We use the client's rights under the Fair Credit Reporting Act and other Federal laws to challenge these negative items and make sure they are accurate."
According to the FCRA, if a negative item cannot be verified by the creditor within 30 days, it must be removed by the credit bureau from that person's report. And since credit history makes up a large portion of the credit score model, the score will usually improve. That makes for some happy, and loyal customers. "It's nice to know that I have a great legal team, that have the keys to the door leading out of the big bureaus' flawed system." says Carl White of Time Mortgage in Palm Harbor, Florida. "The fact that some studies show that 79% of credit reports have mistakes, leaves me speechless. That would be like a doctor operating on the wrong leg over half the time."
"What's great about our Financial Services Program is it creates a personal bond between the lender and the customer." Lawrence adds, "These brokers really want to improve the lives of their customers - plus it means more sales for them. So it's fulfilling in multiple ways."
Christopher Bruce is one of the many clients who has written to his Lexington paralegal, "Lexington Law credit repair brought me back into the dealership and away I drove in fully loaded, brand new car. Just like I told Dan, Lexington Law is awesome, and I would recommend them to anyone with credit issues!"
Wanda adds, "With financial peace you have security and you know the feeling of relief, you feel like, wow, I can go out and buy again because my credit is good."
About Lexington Law Firm
Lexington Law is a general services consumer advocacy law firm that focuses on credit report repair. In practice since 1991, Lexington Law has helped over 1/2 a million clients in their efforts to repair their credit. In 2007 alone, the clients of Lexington Law saw over 602,879 questionable negative listings deleted from their credit reports. More information about Lexington Law's results can be found out at http://www.lexingtonlaw.com.
For more information on Lexington's Financial Services Affiliate Program, visit http://www.fsprogram.com.
###