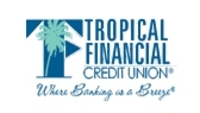 At a young age, many people are faced with a higher interest rate for car loans. They are trying to build credit, which can be very difficult given that young adults have no lending history. We understand this problem and that's why we have developed a
Miramar, FL (PRWEB) March 23, 2009
Tropical Financial Credit Union, the leader in free checking accounts in Florida, today announced i$ucceed - a young adult account package, for members of the credit union looking for car loans, lines of credit and other financial products once too expensive for many to obtain. Those who are between the ages of 18-24 and live in Palm Beach, Broward and Miami-Dade Counties are all eligible to apply.
This new package offers South Floridian young adults free checking accounts along with the benefits of having access to loan specialists for applying for a car loan and mortgage through the credit union. With this new program, more young adults will be able to finance their cars through Tropical's special borrower program, without the worry of excessively high interest rates.
"At a young age, many people are faced with a higher interest rate for car loans. They are trying to build credit, which can be very difficult given that young adults have no lending history. We understand this problem and that's why we have developed a "Young Adult Account Package" which is getting people into their first car." said Jim Wagy of Tropical Financial Credit Union.
Tropical Financial Credit Union has branches in Palm Beach, Broward and Dade Counties. Members have been able to get car loans through the credit union for over 75 years. TFCU offers more than just business loans for real estate and great rates on refinancing for all types of mortgages. Members have full access to traditional banking products such as mortgage loans, free checking accounts, CDs and other investments.
About Tropical Financial Credit Union
TFCU has been a leading South Florida mortgage lender since 1935. As a member-owned and member-operated financial cooperative, Tropical currently manages the time and money of over 65,000 members. The credit union's car loans are extremely competitive with other financial institutions.
If you have questions about a mortgage, other loan, or NCUA Safety, contact us at 305-261-8328 in Miami-Dade County or 1-888-261-8328 elsewhere.
###