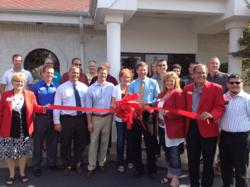 As a native of Joplin and a University of Arkansas graduate, I am excited to provide a local level of service to businesses of all shapes and sizes, while also providing job opportunities in this area, said Jordan Sherrod, District Sales Manager.
Atlanta, Ga (PRWEB) August 02, 2012
Payscape Advisors, a rapidly growing payment processing and technology company, has expanded into Fayetteville, Arkansas and Joplin, Missouri, opening two offices this month, These locations will serve the four state area, and will be an operational hub for Payscape Advisors, providing sales, service and support. "We're thrilled to strengthen our presence within the mid-west and take advantage of the local talent pool and resources" said Jordan Sherrod, District Sales Manager.
"This is an exciting time for Payscape. Our profitable growth over the past several years has allowed us to expand within the mid-west and continue to give back to the local communities, " said Co-President and Co-Founder, Jeremy Wing. "Expanding our presence presents a great opportunity for us to better serve our clients, while also enabling us to reach new customers and support new partners. We are committed to the four state area, and are excited to provide job opportunities as part of our expansion."
About Payscape Advisors
Payscape Advisors makes it simple for businesses and individuals to collect money by accepting credit cards, sending bills, collecting donations or processing online registrations. Founded in 2004, the privately held company has grown to include a national sales force, with account managers throughout the country. Payscape offers a full suite of financial and technology products and services, including: Credit & Debit card processing, Check Guarantee Services, Gift Cards, Merchant Cash Advance, ATM Placement and Sales, POS Equipment Leasing and Sales, Virtual Terminal Packages, Online Invoicing System, Online Registration Management, E-Commerce Solutions and Mobile Applications.