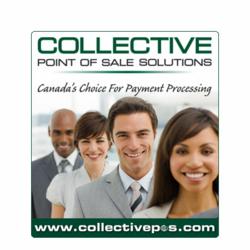 To maintain our record sales and earnings growth, we need to attract, retain and develop top-notch talent...
Toronto, ON (PRWEB) June 16, 2011
Collective Point of Sale Solutions, Canada's Choice for Payment Processing and Merchant Services, has announced a formal commitment to continue growing its employee base throughout 2011.
"We've been helping Canadian businesses accept credit & debit card payments for almost ten years now and we find ourselves growing at a faster pace than ever before," says Michael Back, President & CEO. "To maintain our record sales and earnings growth, we need to attract, retain and develop top-notch talent & build the necessary infrastructure to support our existing and prospective customers with all their debit and credit card processing and POS terminal needs."
Collective POS has a dedicated in-house recruitment department whose mandate is to execute the company's ambitious expansion strategy. According to HR Manager, Lidia Cords, her group is embracing social media to target and recruit new employees. Mass hirings are planned.
According to Ms. Cords, "Our current recruitment strategy, which includes posting on major job boards has been greatly enhanced through the use of Facebook, Twitter, LinkedIn and other social networks. We also post roles for key positions along with detailed information on our newly redesigned corporate website, where candidates can link directly to our Career Opportunities page and apply online."
The company has aggressive goals to increase head count in its Field Sales, Inside Sales and Customer Service departments. There are positions available at the Collective POS head office in Toronto, as well as other locations throughout Canada. Interested parties should visit the company's website at: http://www.collectivepos.com/jobs or send their resume to: careers(at)collectivepos(dot)com
About Collective Point of Sale Solutions Ltd.
Collective Point of Sale Solutions Ltd. (Collective POS) is Canada's choice for payment processing and merchant services. Founded in 2001 by President, Michael Back, the company's mission is to provide entrepreneurs and owners of small to medium-sized businesses with affordable, convenient and more customized alternatives to the debit and credit card processing services currently offered by major banks and other payment processors.
Collective POS serves more than 10,000 businesses across Canada, including retail stores, restaurants, hospitality providers, mobile services, e-commerce merchants, mail order/telephone order businesses, professional firms/clinics/practitioners, B2B product/service providers, trades people and many more industries.
# # #