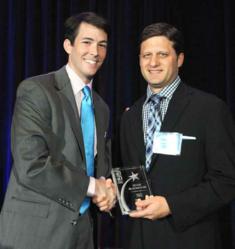 One of the most important lessons I've learned is that you can't grow a successful business on your own. You have to surround yourself with the right people, those you can trust to help you build your company.- Adam Bloomston, co-founder
Atlanta, GA (PRWEB) November 17, 2012
Payscape Advisors, a rapidly growing payment processing and technology company based out of Atlanta, is excited to announce that Adam Bloomston, co-founder and CFO, has been named an Atlanta Business Chronicle 40 Under 40.
This prestigious award is presented annually to the best and brightest young professional leaders in Atlanta. This year, the Atlanta Business Chronicle received over 500 nominations, more than any year in the past. Winners were chosen based on leadership, professional achievements and community service.
Adam has been a successful entrepreneur in Atlanta for over 10 years, and is a valued leader within the business, social and charitable communities. In the last decade he has built 3 businesses in Atlanta, and he strongly believes that by valuing and empowering employees, it motivates them to do great things and ultimately grow the business.
"We have an excellent team of talented professionals at Payscape, and that is the reason for our success", said Adam Bloomston.
About Payscape Advisors:
Payscape Advisors makes is simple for businesses and individuals to collect money by accepting credit cards, sending bills, collecting donations, or processing online registrations. Founded in 2004, the privately held company has grown to include a national sales force with account managers throughout the country. Payscape offers a full suite of financial products and services, including: credit and debit card processing, check guarantee services, gift and loyalty card programs, merchant cash advance, ATM placement and sales, POS equipment leasing and sales, virtual terminal packages, e-commerce solutions, online invoicing system, online registration management and mobile payment applications.
Two technology products unique to Payscape are BillingOrchard, an online billing application and RegPoint Solutions an online registration management tool.