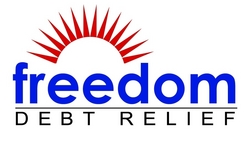 After a recession, we frequently see credit card levels drop as individuals become smarter and more conservative about spending
San Mateo, Calif. (Vocus) September 8, 2010
A recent report indicates that consumer credit card balances have returned to the same level as at the end of the last recession, and Freedom Debt Relief (FDR) vice president Kevin Gallegos has suggestions to help people continue paying off their credit card debt.
"After a recession, we frequently see credit card levels drop as individuals become smarter and more conservative about spending," said Gallegos. "We also have observed the U.S. personal savings rate climb to 6.4 percent in June, after reaching all-time lows earlier in the decade. Sometimes, however, spending and debt will increase as conditions improve. It is important for people to remain vigilant to keep credit card debt manageable."
Credit card balances are at their lowest in eight years. During the last quarter, average combined credit card debt fell to its lowest rate -- less than $5,000 -- since 2002, according to a recent report. Credit card delinquencies also are back to pre-2007 levels, below 1 percent -- a trend that could indicate that people are changing their financial habits.
To stabilize finances now and after the recession, Gallegos suggests consumers take the following steps to pay off remaining credit card debt:
1. Minimize use of credit. To pay off credit cards, the best policy is to avoid using credit cards altogether. "Clearly, it is easier to repay debt when you are not simultaneously adding to it," said Gallegos. "This policy is especially important for people who have difficulty controlling their spending."
2. Pay off debts one at a time. Eliminate debts by prioritizing. Make minimum payments on the cards with the lowest interest rates, and put all available funds to the card with the highest interest rate. With the new credit card statements mandated by the CARD Act, interest rates are printed at the top of the statement, making it easy to identify the costliest cards. Once the highest-interest debt is paid off, continue making minimum payments on all other debts except the now-highest-interest card, and put all extra funds to that card. Continuing this process is a proven method for getting out of debt.
3. Spend primarily with cash. Use cash or debit cards to pay for routine spending. Studies have shown people spend 12 percent to 18 percent more when paying with a credit card.
4. Always pay on time. On-time payments are the most important element of good credit. Setting up an effective tracking system for bills helps keep debt manageable, without accruing late fees and other penalties that drive up debt.
5. Go beyond the minimum. Paying more than the minimum payment makes a significant difference in paying off debt, Gallegos said. The CARD Act also mandates that credit card bills show what a borrower must pay to eliminate a debt in three years. "Frequently, the amount is not significantly higher than the minimum," Gallegos pointed out. "To pay off debt even faster, take on extra work, barter for discounts and pay what you save toward your credit card debt, sell things you do not need, and apply bonuses or gift money to your credit card."
6. Seek help. Individuals who are in serious debt hardship and are struggling to make required minimum payments should carefully investigate their options for relief, including debt settlement, the service Freedom Debt Relief provides.
Freedom Debt Relief (http://www.freedomdebtrelief.com)
Freedom Debt Relief provides consumer debt settlement services. Working for the consumer to negotiate with creditors and lower principal balances due, the company has served more than 80,000 clients since 2002. The company is an accredited member of The Association of Settlement Companies and holds "platinum" member status with the International Association of Professional Debt Arbitrators. FDR holds the Goldline Research Preferred Provider certification for excellence among debt settlement companies.
Freedom Debt Relief is a wholly owned subsidiary of Freedom Financial Network, LLC (FFN). Based in San Mateo, Calif., FFN also operates offices in Sacramento and Tempe, Ariz. The company, with more than 600 employees, was voted one of the best places to work in both the San Francisco Bay area and the Phoenix area in 2008 and 2009.
###