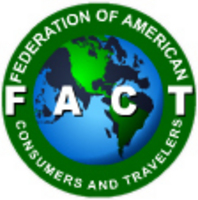 tremendous variance in rates, depending upon which issuer you choose, what type of card you have, and your credit rating.
Edwardsville, IL (Vocus) October 12, 2010
Vicki Rolens, Managing Director of the Federation of American Consumers (FACT), reports that credit card rates are, on national average, holding at 14.15%.
"There is" she says, "tremendous variance in rates, depending upon which issuer you choose, what type of card you have, and your credit rating."
Rolens says that some low-interest cards for persons with a good credit rating can be beneath 12%, while instant-approval cards or cards for persons with bad credit can range from some 16% to 21%.
One possible "plus" to the high interest rates, she adds, may be a pullback in consumer use."According to the Federal Reserve, credit card use levels are falling. One can assume that at least part of the reason is the high interest which the consumer must pay."
How damaging is a high interest rate to a consumer's budget? Rolens gives an example: "Let's say that you have $5,000 in credit card debt, that your interest rate is 14.15%, that you cancel the card today and make payments of $75 a month. It will take you nearly 11 years -- 130 months, to be exact! -- to pay off your balance. Even worse ...
"If you can afford to pay only $58 per month, then you will never erase the balance -- your payments won't be sufficient to cover the accumulated interest."
What to do if you're in a credit card "hole"?
A common solution is to take a bill-consolidation or home-equity loan to pay off those pricey credit card balances.
"Another idea," say Rolens, "is to gather all your cards and make a list, including what you owe, the current interest rate, and the phone number for each card. Call each company and request a lower interest rate, asking for a supervisor if the representative who answers your call isn't helpful.
"Then, transfer your balances from the card or cards with the highest rates to the card or cards with the lowest rates. You might even consider applying for a new credit card if it offers 0% APR on balance transfers and your present credit card companies don't."
Rolens points out that FACT is not in the business of offering financial advice. "We try to point out money problems and offer possible solutions, but we urge consumers to seek help from trusted professionals in approaching any financial needs or difficulties they may have or encounter."
This news bulletin has been issued by The Federation of American Consumers and Travelers (FACT), a consumer organization formed under the not-for-profit corporation laws of the District of Columbia in 1984.
FACT serves more than 1 million consumers nationwide. Additional information on FACT may be found in the Encyclopedia of Associations, and by visiting the association's Web site (http://www.usafact.org).
Informative, unbiased news bulletins are regularly disseminated by FACT to help its members remain current on matters which might seriously impact their lives. The association does not offer support to -- and does not receive support from -- any political party or movement. In addition to publishing consumer-related reports, the association provides more than 30 benefits for its members, ranging from medical insurance and dental discounts to prescription drug savings and scholarships. FACT's administrative office is located at 318 Hillsboro Avenue, Edwardsville, IL 62025.
###