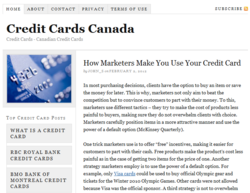 However, if you use your credit card smartly and pay it in full every month, you can receive great rewards and save lots of money.
Toronto (PRWEB) August 28, 2012
Art Branch, Inc., the parent company of CreditCardsCanada.net announced today the results of a rewards credit cards poll (http://www.creditcardscanada.net/online-poll-offers-an-insight-into-customer-satisfaction-with-rewards-credit-cards), targeted at all Canadian credit card holders.
Created by the content development team at Art Branch, Inc., the online poll helps to determine what visitors are interested in so that CreditCardsCanada.net can offer them great content. Polls are an interactive tool to obtain feedback on a variety of issues, and respondents are more likely to give truthful and thoughtful responses.
Art Branch, Inc. administered an online poll entitled "What is Your Favorite Rewards Credit Card?" The poll was conducted over a span of 3 weeks, and visitors had to choose between 5 of the most popular Canadian credit cards. Here are the results:
American Express Air Miles - 27%
RBC Visa Infinite Avion - 21%
Capital One Aspire™ Travel Platinum MasterCard® - 20%
American Express Blue Sky - 18%
BMO Air Miles MasterCard® - 14%
Over 1,000 visitors voted in the poll, and American Express Air Miles has established itself as the clear winner, taking 27% of all votes.
"Credit card debt is usually synonymous with dire financial straits. However, if you use your credit card smartly and pay it in full every month, you can receive great rewards and save lots of money." said Peter Todorov, President of Art Branch, Inc.
Household spending amounts to thousands of dollars a year, with money spent on services, food, equipment, furniture, and other merchandise. Many purchases can be paid with a credit card, and using a rewards credit card can bring great benefits. Cardholders receive rewards such as gift cards and certificates, flyer points, free hotel nights, cash back, and more. Customers are offered travel freebies, discounts, and vouchers, with points being tiered, based on where the purchase is made. Many rewards credit cards are also offered with a zero or low introductory interest rate, insurance products, and other perks. Charging purchases on a credit card can bring many benefits, and the new poll asked Canadians about their favorite credit card. Visitors of CreditCardsCanada.net helped to answer the question what is the most popular rewards credit card in Canada.
About CreditCardsCanada.net: CreditCardsCanada.net is a Canadian credit card blog that aims to deliver exceptional value to Canadians looking for credit card reviews and information.
About Art Branch: Art Branch Inc., a Canadian corporation, publishes CreditCardsCanada.net and has produced several business oriented websites targeting Canadian audience. The goal of Art Branch is to provide visitors to company sites with free, useful guides, helping them make educated decisions.