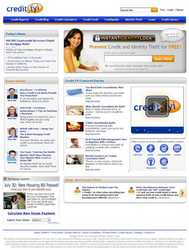 Norwalk, CT (PRWEB) October 8, 2008
CreditFYI.com(SM), a new online consumer destination for everything credit and personal finance related, is now live. This comprehensive website offers an extensive library of articles, how-to guides, educational videos, podcasts, credit blogs, calculators and other tools, along with products designed to help consumers navigate today's challenging economic environment.
CreditFYI.com's mission is to inform visitors about personal finance issues and to provide them with the helpful news, information and protective measures related to credit fraud, identity theft and a variety of other consumer credit concerns. The site is updated daily and features regular contributions by trusted financial experts who monitor the latest developments affecting credit reports, credit scores, foreclosure, loans, credit cards and more to distill the information into practical, understandable information for consumers. The goal of CreditFYI.com is to become the leading, authoritative destination for consumer credit and personal finance information online. It provides in depth analysis of the credit and financial issues that interest the average consumer and the ability to ask questions and receive legitimate answers.
At CreditFYI.com, visitors can:
o Learn about credit reports, credit scores, personal finance and more through easy-to-understand articles, videos, podcasts, blog posts, and "Ask the Expert" features, all supported by a growing team of trusted financial experts and contributors.
o Use calculators to help forecast costs, interests and more for their mortgages, credit cards, auto loans and budgets. In addition, CreditFYI.com provides free access to a credit score estimator.
o Research definitions, tips and advice on foreclosure, credit basics, home buying, money management and debt consolidation in the exclusive "Creditpedia" section of the website.
o Take advantage of Instant Identity Lock, the only free identity theft protection service online that doesn't require any personal data and offers step-by-step guidance, alerts and many other helpful features that give consumers peace of mind.
o Apply for many common consumer loans, including auto, home equity, debt consolidation, mortgage, personal, student loans and more.
o Compare and apply for credit cards with features suited to each individual customer's needs.
To learn more about CreditFYI.com watch the video Credit Educational Portal Launches - CreditFYI Intro, for a walk through of the site.
About CreditFYI.com
CreditFYI.com is a one-stop portal into the world of personal finance. With hundreds of articles on credit monitoring, credit reports and scores, calculators, how-to guides, videos, financial experts and more, CreditFYI.com is the ultimate resource for all credit-related questions and concerns. Launched in 2008, CreditFYI.com is also the one destination to find the best credit card rates, apply for a loan, and learn protective measures in the area of credit fraud and identity theft.
###