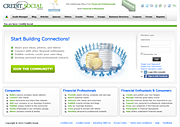 The Gathering Place for Financial Professionals and Financial Enthusiasts
Newport Beach, CA (PRWEB) May 29, 2012
CreditQ Social is a social networking site designed for everyone. The goal of the site is to develop a unique community in which people can find financial resources, get tips and advice, and share what they know about financial topics. Specific aspects of the web site are geared towards those working in the financial services industry, and designed to help them take advantage of our growing network. Linking the social aspect to a financial marketplace, and providing professionals a way to exchange information quickly and accurately, is the site's primary function.
To this end, CreditQ Social provides numerous features that offer financial professionals continuous opportunities to share their expertise, gain clients, build an online presence, and contribute to a thriving community. Some features of the site that financial professionals will enjoy include the ability to:
-Establish a unique profile page, where credentials and area(s) of expertise can be displayed.
-Network with other members in similar fields, or branch out and collaborate with others in adjacent fields.
-Interact with current, new, and potential clients.
-Engage with coworkers. Brainstorm ideas, share resources and advice between one another.
-Chat and share documents with other members on the site in real-time.
-Use social and multi-media to share ideas and information. Post pictures, stories, links and other content to attract like-minded financial professionals, enthusiasts, and even consumers.
-Write and publish content. Create a blog and write posts on select topics, then invite others to participate. Financial professionals can also publish articles and reviews on various topics.
Additionally, financial professionals that are members of web site can also be added to the CreditQ Social Business Directory. This directory makes it easier for millions of internet users to find information about, and interact with, financial professionals, increasing their visibility.
CreditQ Social is free to join now for financial professionals. Anyone interested in signing up should visit CreditQ.com/Social, register, and create an account as a "Financial Professional."
For more information and updates, visit CreditQ.com/Social.
About CreditQ and CreditQ Social:
CreditQ and CreditQ Social strives to deliver pertinent, accurate, and useful information to consumers interested in all aspects of financial planning and personal finance. As an online financial resource center, the company provides direct access to credit card applications, such as credit cards for fair credit, gas credit cards, instant approval credit cards, credit cards for bad credit, insurance providers, investment guidelines, and more. Additionally, the site also endeavors to disseminate appropriate and helpful information through the publication of articles, news-related releases, blog postings, discussion forums, and additional content that addresses changes within the financial industry. The company is always looking for financial experts, and/or anyone with specialized knowledge and interest in financial topics, to contribute in a meaningful way to its sites.