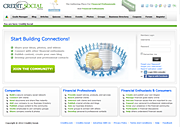 The Gathering Place For Financial Professionals And Financial Enthusiasts
Newport Beach, CA (PRWEB) May 23, 2012
CreditQ notes that American consumers continue to be pessimistic about current and future financial matters. The latest Bloomberg Consumer Comfort Index finds that people are increasingly concerned with the economy, particularly their personal fiscal situation. The CCI has fallen from previous levels recorded in February, March, and April of this year, and it could signify more of the same for this month. These findings reinforce the results of a survey conducted by the American Psychological Association (entitled "Stress in America: Our Health at Risk") earlier this year which found that money is the primary cause for anxiety among those questioned. Not surprisingly, survey participants stated that, in order to relieve stress, they planned to set specific financial goals for 2012.
CreditQ aims to assist consumers in setting clear, well-defined financial goals which may help lessen some of the anxiety surrounding their financial affairs, as well as promote goal-attainment. Whether starting with a budget or not, many people can benefit from setting monetary goals, and having daily reminders that keep them appropriately focused and motivated.
As part of an effort to help consumers gain financial literary and accomplish their monetary goals, CreditQ Social includes a goal management feature on its web site. With the Personal Goal Manager, site members can add numerous financial goals (like "save for a vacation"), as well as non-financial habits (like "quit smoking" or "go to the gym"), which they can update regularly and monitor their progress.
Financial analysts and experts recommend that anyone trying to set financial goals establish short-, medium-, and long-term targets. Typically, people that do so tend to be more successful in accomplishing what they set out to. With the goal management feature, members may:

Add new goals - create title, description, and include image
Designate measurable units of measurement – gauge progress
Set attainable milestones - manage activities
Choose a realistic due-date
Create milestones to set short-term aims for longer goals
For more information about the site, including personal goals management, visit CreditQ.com/Social.
About CreditQ and CreditQ Social:
CreditQ and CreditQ Social strives to deliver pertinent, accurate, and useful information to consumers interested in all aspects of financial planning and personal finance. As an online financial resource center, the company provides direct access to credit card applications, secured credit cards, credit cards for excellent credit, department store credit cards, credit cards for bad credit, insurance providers, investment guidelines, and more. Additionally, the site also endeavors to disseminate appropriate and helpful information through the publication of articles, news-related releases, blog postings, discussion forums, and additional content that addresses changes within the financial industry. The company is always looking for financial experts, and/or anyone with specialized knowledge and interest in financial topics, to contribute in a meaningful way to its sites.