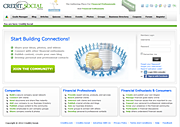 The Gathering Place For Financial Professionals
And Financial Enthusiasts

Newport Beach, CA (PRWEB) April 19, 2012
Many companies and businesses recognize the power of social media for marketing and advertising their products. However,CreditQ Social extends networking beyond Facebook and Twitter-style marketing, focusing on building collaboration and communication networks amongst companies and their employees (in addition to companies and consumers). Once a company establishes an account on CreditQ Social, they can extend invitations and connect with employees, as well as current and future customers.
The unique features of the site allow company members to create groups specifically designed to meet their needs. Employees working on the same project can be grouped together, and engage in discussions related to that project. Companies can also set up group chats that allow employees to talk and share documents in real-time. Gone are the need for long chain emails; people are automatically connected to the conversation, and can gain instant feedback and collaborate. This is a particularly useful feature for problem-solving groups, and when group members need to make sure everyone on the team has the latest information.
In addition to using CreditQ Social for internal company networking, the site also provides external networking between companies and their customers. Companies can establish one group where they create surveys for current and previous clients, in order to improve product quality and customer service. Additionally, companies can also set up groups that facilitate communicate between them and individual customers, or numerous customers. And employees can interact directly with their clients. They can chat directly with customers and use this feature to discuss proposals and projects, exchange feedback, and share documents, files, and even photos.
Ultimately, these features—and many more—were designed specifically to assist companies by harnessing social networks; benefiting from both internal and external networking strategies. CreditQ Social's secure environment promotes cross-communication and engagement to help businesses leverage these features, create communities, and better assist clients and consumers. For more information, updates, or to join the community, visit CreditQ.com/Social.
About CreditQ and CreditQ Social:
CreditQ.com and CreditQ Social strives to deliver pertinent, accurate, and useful information to consumers interested in all aspects of financial planning and personal finance. As an online financial resource center, the company provides direct access to credit card applications, insurance providers, credit report monitoring companies, bank rates, money market account rates, investment guidelines, and more. Additionally, the site also endeavors to disseminate appropriate and helpful information through the publication of articles, news-related releases, blog postings, discussion forums, and additional content that addresses changes within the financial industry. The company is always looking for financial experts, and/or anyone with specialized knowledge and interest in financial topics, to contribute in a meaningful way to its sites.