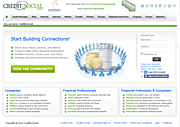 The Gathering Place For Financial Professionals And Financial Enthusiasts
Newport Beach, CA (PRWEB) April 24, 2012
CreditQ Social is a social networking site designed for everyone. The goal of the site is to develop a unique community in which people can find financial resources, get tips and advice, and share what they know about financial topics. Particularly, the blog aspect of the website is designed for people who do not have any particular financial expertise, but who enjoy learning and writing about related topics with others. Some aspects of the site that bloggers will enjoy:

Build an audience; engage community members on various topics and subjects.
Promote activities across various social media platforms like Twitter, Facebook, Google+, Pinterest, and more.
Share pictures, stories, links, news, and other content to attract like-minded financial professionals, enthusiasts, and even consumers.
Interact with other financial enthusiasts and members on the site, and join groups of like-minded colleagues.
CreditQ Social bloggers should engage in financial discussions that not only interest them, but that are insightful and useful to all of the site's visitors. Some examples include: news on credit reporting and scoring, changes in ways financial institutions conduct business, advice and tips on securing a mortgage or loan, steps for investing money wisely, building credit and credit history, how to save money, information on online investing, and many more topics.
Additionally, the site's blog provides external linking, something established bloggers find particularly useful. It is anticipated that website visitors will find these blog posts useful and informative, but also that visitors will potentially be interested in financial products and/or services provided by the blog contributors themselves. Bloggers should seek to build and expand their reputations as financial professionals and/or writers, and can construct a fan-base of their own on CreditQ Social.
Anyone interested in adding their unique voice to this new site should visit CreditQ Social (register, and create an account as a "Financial Enthusiast").
About CreditQ and CreditQ Social:
CreditQ and CreditQ Social strives to deliver pertinent, accurate, and useful information to consumers interested in all aspects of financial planning and personal finance. As an online financial resource center, the company provides direct access to credit card applications, current mortgage rates, insurance providers, investment guidelines, fresh online coupons and more. Additionally, the site also endeavors to disseminate appropriate and helpful information through the publication of articles, news-related releases, blog postings, discussion forums, and additional content that addresses changes within the financial industry. The company is always looking for financial experts, and/or anyone with specialized knowledge and interest in financial topics, to contribute in a meaningful way to its sites.