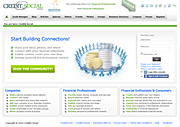 The Gathering Place For Financial Professionals
And Financial Enthusiasts
Newport Beach, CA (PRWEB) April 18, 2012
Part of the challenge of creating a combination social and financial web site is that CreditQ Social's target audience is fairly broad and includes companies, financial professionals and consumers from all financial backgrounds. The site sets out to provide important, useful, and stimulating content that fulfills the broad needs of all site members. As a way to accomplish this, CreditQ Social provides interactive applications, modules and features designed to promote user-engagement, and to make it easier to locate information regarding financial products and services.
The site, which intends to expand in the coming months, is offering contests and promotions as a primary way to attract interested parties to CreditQ Social, but also as an innovative method for guiding members through various site modules and applications, as well as testing their functionality. Over the next few months, CreditQ Social is likely to introduce additional site features, as well as continue to offer further contests and sweepstakes to advance them.
Contests that are currently being promoted on the site through April include:
-Blog Writing Contest: Site members can enter by creating and publish their own financial-related blogs.
-Forum Contest: Site members can enter by posting a new question on the site forum, or a reply to a forum question.
-"Financial Funnies" Photo Contest: Site members can enter by posting a financially-related photo or comic strip to the site.
-Quiz Contest: Site members can enter by taking financial-related quizzes posted on the site.
Each contest offers a $50 gift card prize to one winner, and new contests as well as prizes will are to be unveiled each month. For full details on CreditQ Social's current site promotions visit the "Current Contests" page. And for more information about CreditQ Social and its site features, as well as updates, visitCreditQ.com/Social and CreditQ.com.
About CreditQ:
CreditQ and CreditQ Social strive to deliver pertinent, accurate, and useful information to consumers interested in all aspects of financial planning and personal finance. As an online financial resource center, the company provides direct access to credit card applications, insurance providers, investment guidelines, and more. Additionally, the site also endeavors to disseminate appropriate and helpful information through the publication of articles, news-related releases, blog postings, discussion forums, and additional content that addresses changes within the financial industry. The company is always looking for companies, financial experts, and anyone with specialized knowledge and interest in financial-related topics, to contribute in a meaningful way to its site.