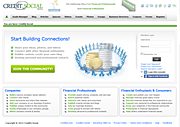 The Gathering Place For Financial Professionals And Financial Enthusiasts

Newport Beach, CA (PRWEB) May 15, 2012
Online sweepstakes are not new for CreditQ, as the website previously offered a popular promotion over the last year. When that sweepstakes promotion ended in April, CreditQ moved the offer over to CreditQ Social. To enter, when at least 150 CreditQ Social visitors sign up on the website, they will be included in a drawing to win a $600 electronic gift card. In order to be eligible, visitors must register and create a profile (complete with picture).
In addition to this sweepstakes, CreditQ Social has numerous other promotions being offered on its site. Beginning in March and continuing through May, site visitors who sign-up and create an account can participate in several on-going contests, including:
-Blog Writing Contest: Site members can enter by creating and publish their own financial-related blogs.
-Forum Contest: Site members can enter by posting a new question on the site forum, or a reply to a forum question.
-"Financial Funnies" Photo Contest: Site members can enter by posting a financially-related photo or comic strip to the site.
-Quiz Contest: Site members can enter by taking financial-related quizzes posted on the site.
Each contest offers a $50 gift card prize to one winner, and new contests as well as prizes will be generated each month.
For more information about CreditQ's online sweepstakes rules, visit the "Online Sweepstakes" page on CreditQ.com, or the "Contests" page on CreditQ.com/Social.
About CreditQ and CreditQ Social:
CreditQ and CreditQ Social strive to deliver pertinent, accurate, and useful information to consumers interested in all aspects of financial planning and personal finance. As an online financial resource center and networking hub, the company provides direct access to credit card applications (such as credit cards for bad credit, credit cards for fair credit, hotel credit cards, etc) , insurance providers, investment guidelines, and more. Additionally, the site also endeavors to disseminate appropriate and helpful information through the publication of articles, news-related releases, blog postings, discussion forums, and additional content that addresses changes within the financial industry. The company is always looking for financial experts, and/or anyone with specialized knowledge and interest in financial topics, to contribute in a meaningful way to its sites.