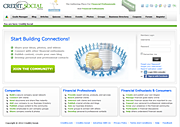 The Gathering Place For Financial Professionals
And Financial Enthusiasts

Newport Beach, CA (PRWEB) May 09, 2012
CreditQ is responding to the high demand for coupons by offering both printable and online coupon options, so that site visitors and members can access some of the best discounts and promotions found on the web. Using coupons once held a negative stigma, but according to NCH Marketing Services (a coupon processing company), Americans saved approximately $4.6 billion last year by redeeming coupons. In fact, coupons and discount savings promotions are more popular than ever.
Although the process of collecting and redeeming coupons is increasingly common, it is also increasingly costly. The expense of purchasing coupons on a large website like eBay, buying multiple newspaper subscriptions, paying membership fees on coupon websites, and other expenses can quickly add up. And anyone unwilling to pay for access to select offers may miss out on these savings, costing them money.
Finding useful and fresh printable coupons and online coupon codes, is easy and fast with CreditQ. Consumers may search manufacturer's categories for coupons (like Foods, Entertainment, Pet Care, etc.) and coupon codes (like Jewelry & Watches, Digital Coupons, Home & Garden, Electronics & Photo, Makeup Coupons, etc.), as well as search for coupons from their favorite businesses. And because the CreditQ Social site is a financial networking and collaboration hub for companies, financial professionals, financial enthusiasts and consumers, the site also includes financial services coupon codes.
By adding free printable coupons, CreditQ offers a valuable resource that many consumers are responding positively to. Currently, the coupon directory includes thousands of entries that consumers may print and use to start saving today. As this component of the site matures and expands, CreditQ will offer special promotions and offers not found on other websites.
Ultimately, CreditQ's goal is to make the process of locating, printing, and redeeming coupons quick, easy, and free. To access the new coupon directory, consumers should visit the CreditQ Social web site (at CreditQ.com/Social) and select the "Coupons" tab. For more information and updates, visit CreditQ.com, or CreditQ.com/Social.
About CreditQ and CreditQ Social:
CreditQ and CreditQ Social strive to deliver pertinent, accurate, and useful information to consumers interested in all aspects of financial planning and personal finance. As an online financial resource center and networking hub, the company provides direct access to credit card applications, insurance providers, investment guidelines, and more. Additionally, the site also endeavors to disseminate appropriate and helpful information through the publication of articles, news-related releases, blog postings, discussion forums, online business directory, and additional content that addresses changes within the financial industry. The company is always looking for financial experts, and/or anyone with specialized knowledge and interest in financial topics, to contribute in a meaningful way to its sites.