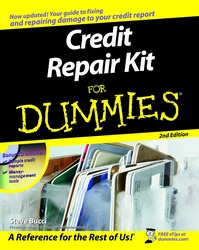 The second edition of my book has been updated just in time to provide a no-nonsense guide to help you through the credit crunch, mortgage meltdown and personal budget crisis we are facing in the United States in 2008.
Hoboken, NJ (PRWEB) August 6, 2008 - The rise in sub-
prime foreclosures, credit card debt, and concern over tightening credit has left many consumers worried about their credit rating. For those looking for concise, straightforward guidance, the second edition of Credit Repair Kit For Dummies® (Wiley; 978-0-470-27673-0; August 2008), by Bankrate.com's Debt Adviser columnist Steve Bucci, gives readers the proper tools to navigate today's unforgiving credit environment. It features clear-cut directions on paying down debt, avoiding foreclosure and repossession, and getting your personal finances back in order. The book also explains how bad credit can keep you from a good job.
"Millions of Americans are facing harsh financial, employment and credit related challenges," says Bucci. "The second edition of my book has been updated just in time to provide a no-nonsense guide to help you through the credit crunch, mortgage meltdown and personal budget crisis we are facing in the United States in 2008."
Here are some of the issues and solutions addressed in the book:
Foreclosure - Saving a home from foreclosure requires quick and effective action. Bucci tell homeowners how to take effective action as soon as possible, communicate with lenders, and get help from experts. There are solutions available, but it is essential to know what to ask for.
Credit Crunch - Good credit has never been more important. Bad credit won't just cost you more in payments; it can deny you credit entirely, keep you from getting a job, a promotion, insurance, a decent apartment, and more. Twenty-five percent of all credit reports have errors. Credit Repair Kit For Dummies, 2nd Edition, will help you understand what is in your credit report, how your score is figured, and how to fix errors and polish your credit.
Bankruptcy - Since the 2005 bankruptcy law came onto the scene, it has been harder to get relief from creditors. Understanding the process is the first step to getting help. The book lays out the process in easy-to-understand terms and helps you decide if bankruptcy is right for you.
Counseling Choices - Getting the help you need can be confusing and daunting; picking the right agency that will help, not hurt, is very important. Bucci details what to look for and questions to ask, and outlines how to find non-profit status, third party accreditation, low/no fees and credit, foreclosure prevention, bankruptcy and reverse mortgage counselors.
In typical For Dummies® fashion, the book concludes with "The Part of Tens," including ten tips for avoiding identity theft or reducing its damage, ten ways to avoid foreclosure, and ten ways to maximize your credit. A helpful "Cheat Sheet" in the front of the book features information on the big three credit bureaus, tips on how to handle an overdue mortgage, and questions to ask a credit counselor. A bonus CD includes a bonus chapter on handling financial emergencies, sample credit reports, letters to creditors, banking institutions, credit bureau agencies, budgets, and identity theft letters.
About the Author
Steve Bucci is the President of Money Management International Financial Education Foundation and writes a nationally syndicated column for the financial mega-site Bankrate.com that is carried by the Scripps Howard News Service.
Credit Repair Kit For Dummies,® 2nd Edition
By Steve Bucci
ISBN: 978-0-470-27673-0 / $24.99 U.S. / August 2008
For more plain-English information on money management, check out:
Personal Finance For Dummies, 5th Edition 978-0-470-03832-1
Personal Bankruptcy Laws For Dummies, 2nd Edition 978-0-471-77380-1
Personal Finance Workbook For Dummies 978-0-470-09933-9
To see all For Dummies titles, visit http://www.dummies.com.
About For Dummies®
With near universal name recognition, more than 150 million books in print, and over 1,000 topics, For Dummies is the world's bestselling reference series. With loyal customers around the globe, For Dummies enriches people's lives by making knowledge accessible in a fun and easy way. Described by the N.Y. Times as "more than a publishing phenomenon, but a sign of the times," For Dummies span every section of the bookstore, covering everything from health to history, music to math, sports to self-help, technology to travel, and more. The Dummies brand franchise has expanded with an extensive licensed product line, including DVDs, software, consumer electronics, cooking, cleaning and automotive products, craft and hobby kits, games and more. For information, visit Dummies.com. For Dummies is a branded imprint of Wiley.
###