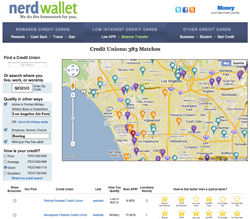 The timing is very good for cost-conscious consumers to switch to a credit union for their financial needs.
New York, NY (PRWEB) May 23, 2011
New banking regulations going into effect on July 21, 2011, may give consumers a compelling reason to make the switch from their bank to a local credit union.
Last year consumers saved $6.5 billion in better rates and lower fees by using not-for-profit credit unions rather than banks. But many people still don't know much about credit unions, or how to find one they can join. NerdWallet makes it easy with the launch of their new credit union finder tool that allows visitors to type in their zip code to find one of 383 credit unions nearest their town or city.
Credit unions used to be sleepy little saving institutions with a limited customer base. Not anymore. These days they offer many of the same products and services you can get at a large bank and in many places, membership is open to anyone who wants to join. The members benefit because the credit unions return their excess earnings back to them typically in the form of higher rates on savings accounts, lower rates on loans and by charging lower and fewer fees. Credit unions offer the full range of consumer financial products and services found at banks.
NerdWallet Founder and CEO Tim Chen says, "The timing is very good for cost-conscious consumers to switch to a credit union for their financial needs." He uses the example of debit card interchange fees, which are paid by stores to banks every time a debit card is swiped, as a lucrative revenue stream that allows banks to subsidize free checking accounts and debit reward programs. Banks earn about 1.3% of every dollar spent on debit cards through these fees. "However, the Federal Reserve, at the behest of Congress, is slated to drastically reduce these debit card swipe fee levels on July 21. Current proposals call for a decline of over 75% from present levels. Banks stand to lose billions, and thus have already started to end free checking programs and debit reward programs," continued Chen.
The Durbin Amendment to the Financial Reform Bill exempts depository institutions with less than $10 billion in assets from the new, lowered, debit interchange cap. This means that almost every credit union in the U.S. is exempt, and will have a substantial advantage over for-profit banks, when it comes to providing debit rewards and free checking.
The only way to know what's right for you — a bank or credit union — is to shop around and compare services, fees and interest rates. See what's best for your personal financial needs. You can find substantial information about credit unions on the NerdWallet site, including the result of a recent national survey that compares local area credit union rates to big banks in the same area.
NerdWallet, one of the nation's premier credit card search sites, helps its users save money and skip the headache of finding credit cards online. NerdWallet was rated Money Magazine's best credit card site in 2010 and has been featured in The New York Times, Forbes and by consumer advocate Clark Howard. It currently tracks more than 1,500 credit cards, offering personalized advice for students, rewards card seekers, jetsetters and more.
###