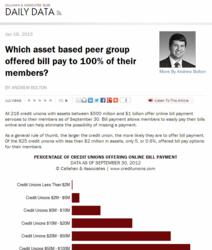 Washington, DC (PRWEB) January 24, 2013
Callahan & Associates recently launched a featured data blog on its flagship credit union industry website: CreditUnions.com. Each day, Callahan analysts focus on one crucial topic and elaborate on its history and current impact on the industry. For instance, this week's topics include income per employee, credit union IT spending, percentage of new tech at credit unions, percentage of online banking adoption and percentage of credit union executives who consider themselves innovators.
All of the articles on CreditUnions.com are based on Callahan data. With longer in-depth features featuring case studies and actionable next steps, and a daily data blog that provides quick and easy snapshots about different data points, readers will have access to new, thought-compelling insights every day. They are also welcome to write in to the CreditUnions.com analysts to request specific data points, and the archive is available to those looking to catch up.
"We are excited to be able to offer this feature to credit unions," said Callahan Senior Industry Analyst Andrew Bolton. "We're frequently asked questions about key industry topics, and these blogs give us an opportunity to answer them for a wider audience."
In addition to CreditUnions.com and its quarterly publications: CUSP, Technology@CU and The Callahan Report, Callahan & Associates also publishes the Credit Union Directory. First launched in 1985, the Directory is the only comprehensive source of information available on the entire credit union industry, encompassing all federal, state, and privately insured institutions. It contains dozens of graphs outlining the financial performance of the industry as well as nearly 50 tables highlighting the credit union leaders across 12 performance channels.
The new daily data blog on CreditUnions.com is merely the next step in the ongoing evolution of Callahan & Associates continued efforts to provide actionable data-based analysis to credit unions.
Visit CreditUnions.com to learn more.