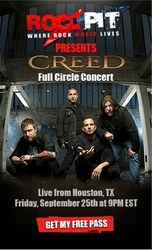 It's amazing how life can change and bring you full circle
New York, NY (PRWEB) September 17, 2009
ROCKPIT.COM, the new music website dedicated to all things rock, will celebrate its official launch LIVE with CREED from the Cynthia Wood Mitchell Pavilion in Houston to kick off the High Definition Live Webcast Concert Series along the multi-platinum, Grammy-winning rockers' Full Circle tour. Be a part of the action as it happens for FREE at Rockpit.com starting Sept. 25 at 8 p.m. CST.
"It's amazing how life can change and bring you full circle," notes CREED lead singer Scott Stapp regarding the Full Circle Tour. "Time gave us all a chance to reflect, grow and gain a deeper appreciation of our friendships, artistic chemistry, passion for music, and sincere love for our fans! It's rare in life to get a second chance to make a first impression and we embrace the opportunity. We all believe the BEST IS YET TO COME!"
Creed fans and rock enthusiasts can register NOW to receive a free ALL ACCESS webcast pass to be among the 200,000 live viewers worldwide by visiting Rockpit.com. The CREED live webcast, produced by DC3 Music Group, LLC and directed by awarding-winning director Daniel E. Catullo III (Rush in Rio, Nickelback Live From Sturgis, Godsmack: Changes), will find its place in the Guinness Book of World Records as a world-record breaking cinematic experience featuring 242 cameras -- the most cameras ever used for coverage for a live music event. Coverage will include simultaneous filming of backstage footage, extended aerial "Fly Cam" stadium views, the full-length concert and pre- and post-concert band interviews.
"Rock music is central to the identity of America and we wanted to pay tribute to the passion, creativity and style that have inspired legions of fans for decades," says Rockpit.com co-founder and CEO Brian Lisi. "Iconic bands like Creed and the live rock music experience deserve to be front and center again, and the Rockpit.com platform is making this possible."
The highly anticipated Rockpit.com website and High Definition Live Webcast Concert Series will be a music industry first. Rockpit.com features an exclusive, comprehensive rock band database of over 500 rock bands and artists, editorial blogs, fan-driven content and community, and the largest full-length rock concert catalog available online. The catalog will feature A-list artists in heritage, alternative and top 40 rock.
ABOUT CREED
Creed is one of the most successful rock bands of the past decade. Since their formation, Creed has sold close to 35 million albums and millions of concert tickets. The songwriting team of Scott Stapp and Mark Tremonti are considered one of the most prolific in rock history. Their collaborations delivered numerous chart-topping records that are a testament to the enormity and success of Creed. The band was the first act to have seven consecutive Number One rock radio singles, four of which came off of the debut album. Their third album, Weathered, tied The Beatles Anthology for the most consecutive weeks at Number One on Billboard's Top 200 chart (eight weeks since the beginning of the SoundScan era - 1991). Band members include Scott Stapp: lead vocals; Mark Tremonti: guitars, backing vocals; Scott Phillips: drums, percussion, keyboards; and Brian Marshall: bass. Visit Official Creed site
ABOUT ROCKPIT.COM
Rockpit.com is the premier rock music destination offering music fans exclusive live streaming concerts and DVD downloads of their favorite rock bands. Providing the latest rock music content, news, and community access, Rockpit.com has all the latest backstage scoop, interviews and up close and personal footage of the leaders in rock and roll. Visit Rockpit.com
ABOUT DC3 MUSIC GROUP, LLC
DC3 Music Group, LLC was formed in 2008 by award-winning director and producer Daniel E. Catullo III (Nickelback, Godsmack, Black Eyed Peas, Smashing Pumpkins, Dave Matthews Band) and industry veterans Peter Bowers and Brian Lisi. DC3 Music Group, LLC is a new multi-media company specializing in exclusive live concerts and behind-the-scenes content from multi-platinum artists to be distributed through multiple distribution channels, including the latest mobile and digital technology through its new website http://www.Rockpit.com. The Company is currently producing DVD projects with Alter Bridge, Godsmack, Creed, Chickenfoot, and Motley Crue. Visit http://www.dc3global.com.
###