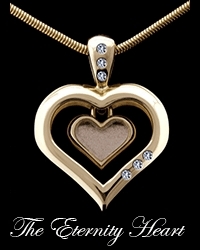 Irvine, CA (PRWEB) July 28, 2009
The Eternity Heart Fine Memorial Jewelry announces the introduction of luxury cremation jewelry to select Southern California mortuaries.
Nationwide, the percentage of families choosing cremation, rather than a traditional burial, has now reached 34%, and that figure is more than 55% in California, meaning that mortuaries are finding far less opportunity for traditional burial product sales.
Because of this trend, mortuary owners are experimenting with alternative forms of product lines to offset revenue loss, and one of the most popular and profitable options is fine, high-end cremation jewelry.
Until now, cremation jewelry has been limited to costume jewelry from large wholesale distributors who offer hundreds of products that compete primarily on price. Most of this costume jewelry, which is mass produced overseas and made of plated metals, offers limited margin potential and marketing appeal for mortuaries.
But now the introduction of luxury "one-of-a-kind" fine cremation jewelry to the marketplace offers mortuary owners a much higher profit margin potential. This unique and elegantly handcrafted fine jewelry is not seen as discretionary spending, but rather as a purchase similar in nature to an engagement ring or a wedding band.
According to Derek Godfrey, founder of Eternity Heart Fine Memorial Jewelry in Irvine, California, "A new level of sophistication in cremation jewelry has dawned and is now available for those individuals who desire exclusive, fine cremation jewelry made with integrity and compassion that can be handed down for generations."
Godfrey continues, "Fine cremation jewelry is not for everyone, nor for every mortuary, but mortuaries catering to specific demographics and offering appropriate brand positioning find that this high-end jewelry is appealing to individuals and families, while also offering a high profit margin.
The Eternity Heart line of cremation jewelry is available in selected mortuaries on a consignment basis, and the ability to customize the jewelry into a one-of-a-kind creation by using specific metals or gemstones increases profit margins even further. The options range from sapphire crystals and diamond placement all the way to developing a completely new gold or platinum casting.
The Eternity Heart is an individually handcrafted jewelry pendant that holds precious cremated remains or a lock of hair behind a fine crystal window.
###