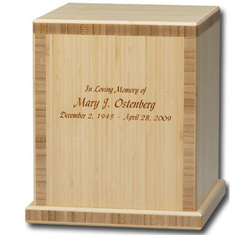 Families everywhere are conscious of the environmental impact of their purchasing decisions
Lisle, IL (PRWEB) March 15, 2010
A growing number of consumers are making environmentally friendly products part of their daily lives. But consumers need not abandon their green values when considering their funeral planning options. A new selection of eco-friendly cremation urns from Richard Lamb New Traditions can help consumers stay green to the very end.
"Families everywhere are conscious of the environmental impact of their purchasing decisions," says Richard Lamb, the company's founder and 45-year veteran of the funeral industry. "When they realize that the cremation urns they choose are likely to have a lasting effect on the environment, as well, they ask for greener options."
The urns are crafted from recycled and sustainable materials such as bamboo, cornstarch, recycled metal, and even ancient Himalayan salt. Some are fully biodegradable and ideal for water burial, while others are suited to display in the home or memorial park. Each is a unique piece, with handmade details. The urns are available for purchase on the company's Web site.
Richard Lamb New Traditions is a family-owned and -operated retailer of memorial merchandise for people and pets, specializing in eco-friendly, unique, Irish, and hard-to-find memorials. The company's Web site features memorial options that help consumers create personalized, lasting tributes to their loved ones.
###