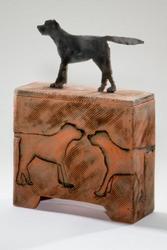 "We understand and have experienced the special family bond that makes a pet a part of the family." - Melody Jamali, Founder - Une Belle Vie
Englewood, CO (PRWEB) March 23, 2010
It's the side of pet ownership that most don't want to consider, but there's a Denver-based company on a mission to make the loss of a pet a more celebratory event. Une Belle Vie seeks to simplify the pet bereavement process with the March 2010 launch of an artistic selection of cremation urns for pets.
"Our pets fulfill our need for unconditional love," remarks Melody Jamali, President of Une Belle Vie. "We understand and have experienced the special family bond that makes a pet a part of the family. When the time comes, we aspire to make this difficult time a little easier by providing our clients with distinctive, artistic pet urns that capture a level of character. Not only is it more personal – it gives families the peace of mind that comes with knowing their special family member has been given a proper memorial."
For owners facing the trying time associated with losing a pet, the Une Belle Vie website offers a host of resources designed to help guide them through the process.

Need help understanding options for pet cremation? Read the Une Belle Vie blog "Where Does Rover Go?" It's a compassionate guide for pet owners complete with questions to ask the family vet and typical pet cemetery costs.
Learn about the different types of pet urns. Read "Pet Ashes: Remembering Friends" on the Une Belle Vie blog for a guide to urns for pets including urns for burial, biodegradable urns and options for custom urns.
Looking for the perfect cremation urn for a family friend? Explore Une Belle Vie's extensive collection of pet cremation urns – imagination is the only limit to celebrating a special friend's life.
Pet owners can explore Une Belle Vie's online creative community of resources and handcrafted pet urns:
Discover Le Chat Chic, a whimsical cat cremation urn
Go Fetch – an Une Belle Vie exclusive cast in bronze
About Une Belle Vie: Une Belle Vie Memorial Urns is a Denver, Colorado-based company focusing on providing a supportive and informed experience whether families are planning for the future or coping with the passing of a loved one. Their online community and store offers artisan-crafted, decorative cremation urns in a variety of materials designed to celebrate life, personality and offer fitting memorials for those we love. Visit their community of caring online via Facebook and visit their educational cremation blog.
# # #