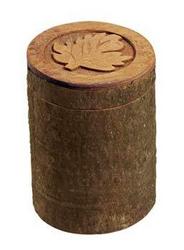 The cost of a brick and mortar business is much higher than that of an online store, this is why we can provide free shipping on all our products
Three Rivers, CA (PRWEB) April 29, 2009
In the Light Urns, a memorial products store has launched a new biodegradable and green cremation urn line that will assist families during the recession. With the loss of nearly 600,000 jobs in January, times are tougher than ever for American families. In the Light Urns (ILU) began to plan for these difficult times in late 2008. Susan Fraser, the company owner, had a vision to provide a line that is a fraction of the cost of traditional urns and keepsakes. On April 15th, 2009 ILU released an exclusive and affordable line of green cremation urns.
There are five different styles in the line and almost all are priced under $100. The materials used in these biodegradable urns are fabric, paper-based products, wood and ceramics. Susan remarked, "With a bit of creativity we can provide affordable memorials that families really love. American's need companies like us to be dynamic during hard times. It's clear these are hard times and we are prepared to do what it takes to make things easier for families that have lost a loved one."
As spring approaches more people are making plans to scatter or bury ashes. It's not necessary to scattering ashes with an expensive or heavy urn and most urns cannot be taken on an airplane. ILU's biodegradable and green urns are TSA approved for travel so people can feel comfortable with the price and the planning behind this line.
More people are turning to cremation because of the difference in costs compared to traditional burial. "The cost of a brick and mortar business is much higher than that of an online store, this is why we can provide free shipping on all our products," says Susan. ILU also provides discount urns and memorials, where people that are hardest hit by the economy, can find something at an affordable price.
Furthermore, the trend of people turning to the internet for funeral products and information is rising. Resources online are becoming more relevant and extensive than ever before. These cremation urn and memorial companies are working hard to provide the best value possible. Families that have lost a loved one can find excellent information and memorials online that are not always available at their local funeral home.
###