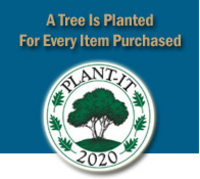 We're giving back to the planet one tree at a time. It's the right thing to do.
Santa Barbara, CA (PRWEB) July 20, 2010
Alterna Cremation Options, an online retailer offering families an alternative to the traditional method of purchasing funeral urns, is now planting one tree for every item purchased through its web site, http://www.AlternaCremation.com. One tree will be planted for every cremation urn, urn vault, keepsake jewelry piece or other item purchased from the company. The trees are planted by Plant-It 2020 in non-harvest locations that are protected by contract from being cut down.
With Alterna Cremation Options, families have a revolutionary new way to quickly and easily find quality cremation products. In business since 2004, Alterna Cremation Options understands the need for an alternative to high priced cremation urns offered at funeral homes and mortuaries. The company's goal is to serve as a reliable source for these goods that is accessible to families at any time. The recent re-launch of the company web site provides clients even greater convenience and ease of use than ever before.
A proud member of the International Cemetery, Cremation and Funeral Association, Alterna Cremation Options prides itself on offering only the finest cremation urns available, and always at an affordable price. A wide selection of cremation urns of unmatched quality and workmanship are available, including brass urns, ceramic urns, child and infant urns, cloisonne urns, companion urns, keepsake urns, marble urns and wood urns. Urn burial vaults are also available. Family members may also wish to personalize a cremation urn or burial vault with any of the customizable urn medallions offered by Alterna Cremation Options.
Visitors to AlternaCremation.com will also find many unique styles of cremation jewelry. From cherubs, crosses and hearts, to cowboy boots, dolphins and teddy bears, there's a keepsake pendant or necklace to memorialize any family member.
Alterna Cremation Options has client service counselors available for support 24 hours a day, seven days a week. For more information about Alterna Cremation Options, call toll-free 1-800-609-9308 or visit http://www.AlternaCremation.com.
# # #