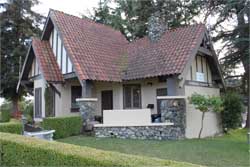 Oakland, CA (Vocus/PRWEB) March 24, 2011
The Nautilus Society, California's leading cremation provider, encourages residents to ask 5 questions before making payments on cremation services.
The first question one should ask is whether a cremator owns their own crematory. If the answer is no, beware of hidden fees. The additional costs associated with off-site cremation may be passed onto the customer.
Second, ask about contract cancellations and refund policies. After-life preparations are undoubtedly one of life's most personal decisions, and as such, should be handled with sensitivity. Many cremation businesses do not offer reimbursements should one have a change of heart, so be sure to inquire about cancellations and refunds.
The third question one should ask is in regards to relocation. Several cremation services offer worldwide coverage in the event that a customer moves out of state for an additional fee. However, this is not the case for all cremation providers so make sure to ask or risk losing down payments.
Fourth, ask if monthly payments are available, and how much interest the cremator charges for this service. Cremation services are often expensive and may require monthly investments rather than a lump sum. It is important to inquire about interest rates on monthly payments in order to accurately gauge payment expectations and avoid unwanted surprises.
Finally, ask how long the cremator has been in business. The easiest way to muddle after-life preparations is with an inexperienced provider. Search the web for business reviews and find out about other clients' experiences.
Asking these 5 simple questions can help avoid anxiety and save money, ensuring a peaceful preparation for the afterlife.
For more free advice from California's leading cremation provider, call the Nautilus Society at (510) 567-4234 or visit them on the Internet at http://www.nautiluscremation-ca.com.
About the Nautilus Society:
The Nautilus Society is a provider of cremation services for residents in the San Francisco Bay Area. The specialist in cremation arrangements owns and operates a state-of-the-art crematory, which complies with all state and Federal regulations. The Nautilus Society wants customers to be comfortable with their end-of-life arrangements, so for the past 30 years anyone who has purchased pre-paid cremation and asked to cancel their contract has received a full refund. The Nautilus Society offers at need cremation as well as a worldwide coverage policy that takes care of loved ones wherever death may occur. At Nautilus, customers can choose their cremation plan, with an option to make monthly payment at 0% interest.
# # #