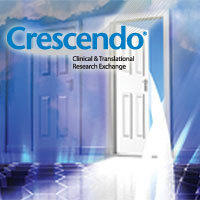 Because these organizations use the same platform, many of the challenges inherent to collaborative research are eliminated. For OnCore centers, issues related to staff training, agreement on data fields, and even, in many cases, standard operating procedures are minimal or non-existent
Madison, WI (PRWEB) February 24, 2009
Coinciding with the 9th anniversary celebration for the company, PercipEnz Technologies, Inc. announces the launch of Crescendo(tm), the company's suite of services for clinical and translation research data exchange. The website, located at http://www.CrescendoEx.com, provides descriptions of the available services and acts as an access point for some of these.
Crescendo is a set of services designed to enhance and accelerate clinical and translational research. Catering to the needs of the cancer centers and multi-disciplinary research organizations that use PercipEnz's OnCore(r) software platform, the Crescendo exchange fosters collaboration among, and leverages the collective expertise of, these world-class institutions.
Crescendo services fall into three major categories:
1. Support for Multi-Center Clinical Trials
2. Establishment of Metrics & Benchmarks for Clinical Research Operations
3. Creation & Utilization of Research Registries
Support for Multi-Center Clinical Trials
Services in this category provide the infrastructure to easily launch highly secure, often transitory, clinical and translational research information networks involving a wide range of stakeholders. These services facilitate purpose-driven, secure, collaborative data exchange among major research institutions. How and when these services are utilized is based on the needs of the parties involved within the research community.
"Our goal with these services was to give researchers the freedom to collaborate with each other on their own terms. Crescendo gives them the choice of what data they want to share, under what circumstances, and with whom," says Tony O'Hare, PhD, Chief Scientific Officer at PercipEnz.
Crescendo services for multi-center trials also leverage the fact that all of the participating centers utilize the same informatics platform.
"Because these organizations use the same platform, many of the challenges inherent to collaborative research are eliminated. For OnCore centers, issues related to staff training, agreement on data fields, and even, in many cases, standard operating procedures are minimal or non-existent," says Srini Kalluri, president & CEO of PercipEnz.
Establishment of Metrics and Benchmarks for Clinical Research Operations
Services in this area provide tools for the leadership teams in the clinical trials offices of research centers. With these tools, they can evaluate the work their teams do and make informed decisions about resource allocation.
"We believe in the dictum, 'what cannot be measured cannot be improved,'" says Kalluri. "Through this service, participating centers contribute anonymously to a database of key measurements that provide insight into how their center is operating. Soon, these centers will be able to compare their individual measurements against aggregated results of centers across the country."
"With the number of centers that are participating, the Crescendo user base is uniquely poised to contribute to the national context," says Kalluri. "Already, this group is demonstrating thought leadership in the field of clinical research operational excellence. Crescendo just provides a central repository for the evidence-based innovations that they contribute."
Creation & Utilization of Research Registries
Services in this area are based on purpose driven databases that contain data aggregated from participating OnCore centers as well as other public data sources.
At the request of the OnCore community, the first registry service available through Crescendo allows participating centers to quickly identify clinical trials being run by OnCore centers across the country. This allows researchers to target collaborative opportunities within this highly desirable group. Previously, in order to conduct such a search, an individual would have to parse through a much larger database manually searching for trials hosted by known OnCore centers, or go to the online searchable database belonging to each OnCore center, one-by-one.
"The people at OnCore centers regard their peers with very high regard. Through their interactions in the OnCore community, they've come to expect a certain level of operational excellence from each other. This, combined with their common informatics platform, makes collaborating with other OnCore centers a very desirable option," says Kalluri.
For information about the OnCore research informatics platform, contact PercipEnz Technologies at (608) 826-6000 or visit the company online at http://www.PercipEnz.com.
Founded in 2000 and headquartered in Madison, Wisconsin, PercipEnz Technologies, Inc. develops enterprise-class clinical and translational research management software. The company's flagship product, the OnCore(r) informatics system, is the nation's most widely adopted clinical research platform among academic research organizations and cancer centers.
The OnCore platform is the result of nearly a decade of experience working closely with large research organizations, including cancer centers and institutes funded by the National Institute of Health's Clinical and Translational Science Award (CTSA) program. By actively engaging users throughout the development process, PercipEnz delivers solutions that address the underlying operational challenges facing organizations and their staff. The OnCore system is a proven, effective, and sustainable informatics infrastructure that supports streamlined clinical research operations. The platform is powerful and secure while providing the flexibility required by individual institutions to support their unique organizational structures and workflows.
###